As we age, we notice changes in our skin's texture and elasticity, especially around the jaw, neck, and decolletage. This happens over time as collagen and elastin start to break down. As the skin begins to break down with age, it can't bounce back like it used to, and we start to notice loose skin or the dreaded turkey neck.
While changes in the skin play a major role in the process of a sagging neck, there are other important factors. The additional common signs of a sagging neck are the development of vertical muscle bands and excess fat deposits. Muscle bands occur due to the regular use of the platysma muscle, with the vertical lines representing the muscle edges. Excess fat is also a common issue and can be considered age-related. In many cases, the development of these fat deposits results from hormonal changes in the body.
There Is A Natural Way To Improve The Appearance Of The Neck
It is possible to lift and tone a sagging neck! I met with Marylou Moglia of Face Yoga Unveiled, and she shared with me four of her highly effective approaches to improving the look of both the neck and chin area. Marylou is a Certified Face Yoga Method Teacher and explains what Face Yoga is:
"Face Yoga is a process of revealing areas of tension, learning release techniques, awareness of your mind, body, and facial expressions. It's also important to strengthen muscles in your face and neck while also awakening others. As you work these muscles under your skin, you'll increase oxygen and blood circulation from your face. This process benefits your skin, body, and mindset. The best part is that Face Yoga works!"
2 Simple Habits To Improve The Appearance Of A Sagging Neck And Chin
Marylou shares two other important things for improving these natural signs of aging. It's important to include these two things along with a Face Yoga routine because they each substantially impact your overall appearance as you age.
Posture
Notice your posture! Make sure that your chin has a nice angle and that it's not too far forward or sucked too far back. The angle of the chin is changed by both the posture of your spine and having your shoulders up and back. When you tuck your chin back, it creates a saggy baggy look.
Moisturize
Because the skin in the neck area gets thinner over time, it's important to moisturize with neck cream. It's okay to moisturize several times a day if you feel it's necessary.
Face Yoga Is A Natural Way To Lift And Tone A Sagging Neck
There are muscles all along the face, chin, and neck area that can be worked routinely to get real results in improving a sagging neck. There's a huge muscle called the Platysma that runs from the chin on both the right and left side that goes all the way down past the collarbone. It makes sense that over time, due to lack of use, the area under the chin and neck gets saggy. There are specific Face Yoga Exercises that you can do that will lift these muscles and improve the appearance of your neck. These will improve the chin and jawline as well!
Face Yoga Pose 1: The Acupressure Push With Slide
The benefits of this pose include releasing tension, contouring your neck area, and releasing lymphatic glands. The lymphatic glands hold fluid, so as you work and release this area, it also helps to reduce puffiness.
How to do the Acupressure Push With Slide Pose
Step 1:
Apply facial oil or moisturizer to glide on your skin rather than pulling.
Step 2: Place your thumbs under the chin by resting your knuckles just under the front of your chin.
Step 3: Breathe in, and then as you breathe out, glide your knuckles from under your chin in a backward motion to underneath your ear.
Step 4: From the under-ear position, gently slide your knuckles down the sides of your neck.
Step 5: Repeat a total of 5 times.
Face Yoga Pose 2: The Swan Neck
The Swan Neck is a quick exercise that is wonderful for toning, tightening, and strengthening those sagging neck muscles. The Swan Neck will also help eliminate that double chin that you may be finding has started or has already happened. The Swan Neck pose helps to reverse that sagging neck and double chin by increasing your muscle tone and improving the appearance of the front of the neck!
How to do The Swan Neck pose
Step 1:
Practice a soft, supple lip pucker. It is important that your lips are puckered softly and not pursed tightly to reduce fine lines.
Step 2: Place your hands on your collarbones.
Step 3: With your eyes only, look to the right at a 45-degree angle and then follow that angle with your head.
Step 4: Tilt your head and chin up to that 45-degree angle while feeling the stretch of the muscle.
Step 5: Gently pucker your lips and hold for 10 seconds. Breathe.
Step 6: Return to forward, center position. Relax your face.
Step 7: Repeat steps 1-6 on the left side.
Step 8: Repeat twice on each side for a full set.
Practice these two facial yoga poses for seven days for the best results. You'll start to notice a decrease in crepey skin, the appearance of jowls, and saggy neck skin. Of course, a healthy diet will help as well, and if you want to try adding cosmetic creams to your daily routine, that can bring additional improvement. To increase and maintain your results, make a new, healthy habit of doing face yoga every single day!
Watch Face Yoga
Still not sure how to do it? Watch Marylou demonstrate two face yoga poses to tighten and tone a sagging neck.
Our picks: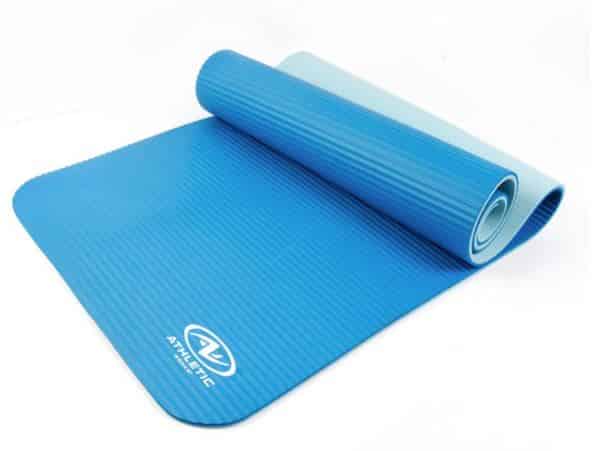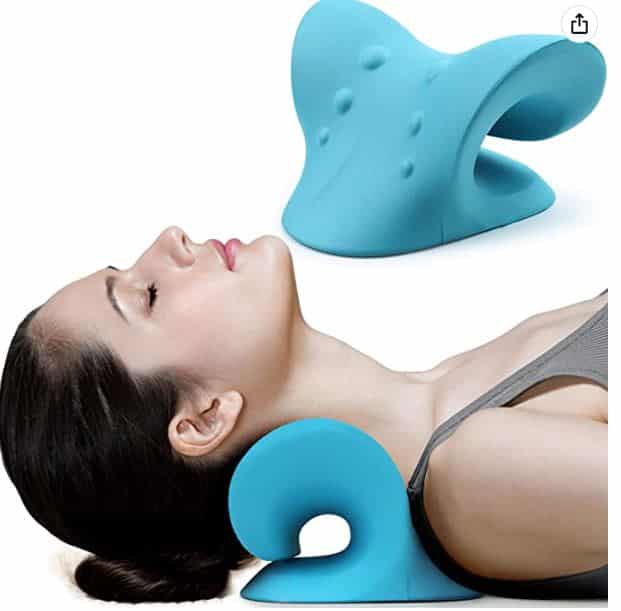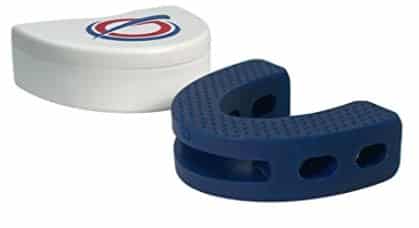 Read Next:
5 Exercises To Get A Smaller Waist
5 Easy Exercises to Reduce Breast Size