It's safe to say I am not blessed with the vocal range of Barbara Streisand or Beyoncé.
However, I like to think (key word) I can kind of hold a tune – depending on said tune of course! And like most of us, I adore singing at the top of my voice in the car, the house, and it has been known for me to sing out loud on our dog walks – completely forgetting where I am and letting the music take over and my voice be heard.
Unfortunately, I had a rather disastrous experience with a karaoke machine and an ill-chosen song many moons ago and it still haunts me to this day. Myself and my bestie – who has got the voice of an angel – were in Florida and after a long day at Disney, we decided to venture to the hotel bar for a much-needed beer. And as we discovered it was karaoke night – bear in mind this was the 90s and karaoke was still 'the thing' to do – we duly started scrolling through the song choices and started submitting slips of paper. And for some unknown reason, I thought it would be a good idea to sing 'Hey Jude'. Let me tell you right here, right now…. unless you are an original Beatle, it is never a good idea to sing Hey Jude. To say it was the longest and most painful 5 minutes of my life is an understatement….and I would guess the people in the bar probably thought so to! My bestie was crying with laughter and I well, just cried…and died in the corner.
Fast forward many, many years later and I found myself in a school hall on a cold Tuesday evening ready to embrace my inner songstress again. And boy, was I petrified! I'd actually already cancelled it 3 times before Tuesday and was one click away from doing the same again this week but something inside said go; do it; step right out of your comfort zone.
Now the fabulous thing about Rock Choir is there are no auditions. No worry the entire room was going to snigger behind their hands at my slightly out of tune singing, and no worry that I'd have a brain fart and forget the words to Do Reh Me.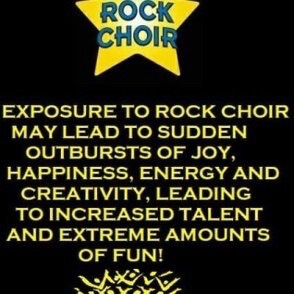 I was met by a lovely 'Team Leader' who asked what range I sang in. What, what?! Ermmm…..middle, I ventured slash guessed. Apparently middle isn't a range but Alto is….and then there's Lower or Upper. Goodness me, I was confused. I just wanted to come along and have a good old sing song! I sat next to two lovely ladies who made me very welcomed, explained what happened and thrust 3 song sheets into my hands. I stared blankly at them – I knew the song titles but they may as well have been written in Chinese.
Each verse and chorus were split up into the relevant parts – Soprano, Alto and Bass – and then again depending on whether you were Lower or Upper. I looked around wildly and all the regular members of the choir (ie: everyone) had highlighted their parts on the sheet and looked relaxed, comfortable and ready to sing their little hearts out. Me? I looked like I wanted to be at home. 'Don't worry', whispered the nice lady next to me, 'Just sing what you want, no one will notice'. I smiled and nodded, although thinking that wasn't quite the idea of a choir.
And so, we began with 'Don't Leave Me This Way'. A classic and as an 80s girl, best remembered from The Communards version. And very quickly I learnt exactly why choirs sound so amazing. Our part, Lower Alto, didn't sing the tune! Nope we mixed it up, slowed it down and emphasised words that would normally be lost in the song. And as I started to relax, follow the words, breathe normally and even follow some of the 'dance' moves, I also started to find my voice. As my confidence grew, I stopped whispering and started singing…and oh boy, did I love it!
90 minutes later and it was all over. I was beaming! We went over and over (and over some more) 'Don't Leave Me This Way' and started on 'With or Without You' (where randomly, Lower Alto did get to sing the actual tune) and even had a quick burst of 'Shut Up and Dance' (very hard!). But you know what, it was probably the best 90 minutes I have spent in a very long time. Yes, I was massively out of my comfort zone. Yes, I was petrified. And yes, I even had a little bit of sick in my mouth as I walked towards the door at the start.
And am I going to join and become a Rock Choir member?
YES! YES! YES!
To read more of 50 Ways to Leave Your 40s, click here.