If you're like most of us prime women, you watch PBS's Masterpiece series Downton Abbey where you've seen endless ads for Viking Cruises. You've probably also wondered if they would be as fun as they look in the ads or if the stereotype of river cruisers being lots of old people (that's anyone older than us!) who sit around and play a lot of bingo was the real truth.
While my travel group ranged in ages early to late sixties, we were a far cry from being the youngest people on our trek up the Rhone River. As it turns out, the average age on ALL river cruises is 55 – right in the sweet spot for us prime women. Uniworld cruise line, too, seemed to attract a younger clientele, at least from my observations of guests departing nearby cruise lines.
As to answering the question of would a river cruise be as fun as it looks in the ads – absolutely! In fact, I think our trip exceeded our expectations – and that's not an easy thing to do.
5 Reasons Why You Should Take a River Cruise
Here are my top five reasons you should book a river cruise (especially Uniworld's Burgundy/Provence cruise).
1. Size of the boats.
You've most likely been on an ocean cruise ship, and unless it was the expedition type, your fellow passengers numbered from 300 to 3,000 or more. The size of river ships is limited because the vessels need to be able to navigate through locks and under low bridges. Most carry fewer than 200 passengers, some fewer than 100, and some even fewer than 50.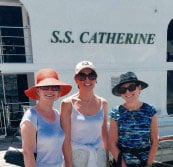 Three of us headed out for a tour
Uniworld's SS Catherine held 159 guests and it seemed even less. We loved not dealing with crowds and the open-seating at mealtimes. They could also limit the size of any tour group to no more than 15 or so, again making it more intimate and conducive to meeting new people. The size also made it possible for the staff to offer exemplary service. Even on the smallest and most exclusive ocean liners, only the passengers staying in cabins with butler service would have received the level of service ALL of us did on Uniworld.
2. Beautiful accommodations.
While I can't vouch for every river cruise line or even every Uniworld ship, the S.S. Catherine is a stunner. Unlike other cruise lines that have an identical decor on all their fleets, Uniworld gives each ship its unique personality. The S.S. Catherine was christened by Catherine Deneuve and it's every bit as elegant as she is.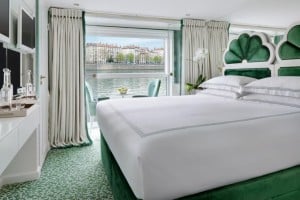 Category 1 Stateroom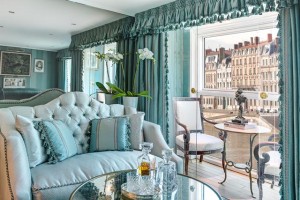 Suite
All three couples on our trip opted for the category 1 stateroom with an open-air balcony – which we never used. Curtains separate the room from the balcony, making the small cabin seem smaller and the balcony wasn't actually open. Instead, there was a full glass window that lowered half-way down and automatically turned off the air conditioning in your room – not good. Don't bother paying extra for category 1. The category 2 stateroom has a French balcony and the drapes are against the window making the room more spacious and they cost less money, a much better choice.
We did take a peek into one of the suites, and for the price difference between them and a category 1 stateroom, the suites are worth it if you would like a little more room. They also include butler service and the option of having a full breakfast in your room along with other perks. There is only one Royal Suite with separate living and sleeping areas, so book early if that would be your choice.
Another very nice touch was L'Occitane en Provence bath and body products in every cabin. And while the cabins are small compared to rooms on the higher end ocean cruise ships (the width of the boat limits cabin sizes), they are so well designed with drawer space tucked away everywhere and two closet spaces, you didn't feel cramped.
3. It's a truly relaxing vacation.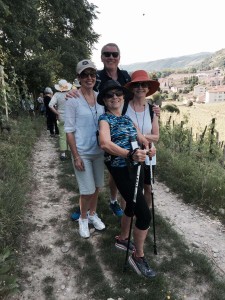 And by relaxing, I don't mean boring or you're not getting any exercise. In fact, we got off the boat several mornings and went for a walk or jog before the tours departed. Also, this particular cruise offered a "go active" option most days which might be kayaking, bicycling or hiking up a very steep vineyard which we really enjoyed.
What I mean by relaxing is there was no hurried pace you can often feel on a cruise ship or any touring vacation, for that matter. There were only three floors to navigate. The bar was a few doors down from our room; the dining area was one floor down and a short walk; and the gym (small but adequate) and laundry were on the bottom floor.
Walking tour of Hermitage vineyards.
And, of course, there's the added benefit you get on any cruise and that is no constant packing and unpacking as you move from one location to another.
4. Interesting tours in interesting places.
Our river cruise started in Avignon and ended in Lyon, though we first went south to Arles, a fascinating city where Van Gogh famously cut off his ear.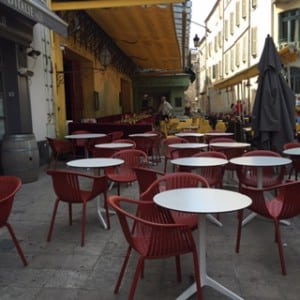 The Café van Gogh, on the Place du Forum, is depicted in one of the artist's most famous paintings.
Arles has also preserved impressive remains from the Roman and Medieval eras. The Arenes amphitheater dates back to AD 75.
Though most tours are included in your booking, Uniworld did offer optional tours at an additional cost. Since we had spent three days in Avignon prior to our river cruise, we choose to take a cooking class.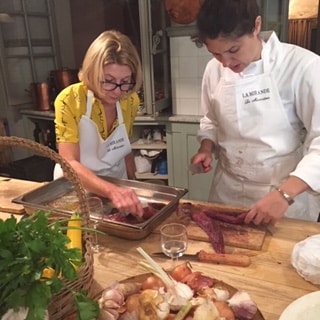 It was one of our favorite days as our young chef first took us to the market to select our items to prepare and then instructed us as we prepared a fish soup bouillabaisse style, duck breast, and a chocolate cake with a raspberry melted heart, which we then ate before returning to the boat. It was one of our favorite days on the trip.
If you haven't seen Avignon, by all means, go on a tour of the city. The Papal Palace where the Popes were in residence during the 14th century is not to be missed.
Small villages such as Viviers and Beaune were charming and historic. Lyon, while much larger, the gourmet tour led us through a few of the hundred secret passageways in the old quarters, where homes were tucked away under roofed alleys. We sampled pastries and such from shops along the way.
5. Simply traveling up a lazy river.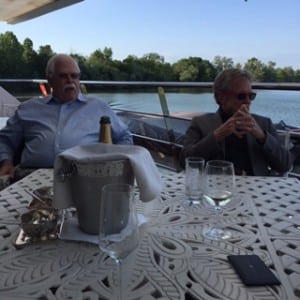 Our very favorite part of the trip was sitting on the back of the boat having afternoon cocktails and watching the French countryside go by. While there's a much larger area to sit outside in the front of the boat, our little deck off the bar only had a couple of tables. Most of the time, it was just us and maybe one other couple.
And speaking of couples, not everyone on the boat was a "couple." There were several women traveling with friends, either leaving their spouses behind or not married or widowed. We enjoyed getting to know many of them during our cooking school and cocktail parties on the boat. This particular cruise would have been a good option for a woman traveling alone or with other women friends.
There's a lot of good reasons river cruising has become the fastest-growing segment of the travel industry, but particularly for PRiME women who've already done a great deal of traveling, river cruising offers something new and different; a slower pace and visiting some out of the way places you may never have seen before. Happy cruising!
Up a lazy river where the robin's song
Wakes up in the mornin', as we roll along
Blue skies up above ….everyone's in love
Up a lazy river, how happy we will be, now
Up a lazy river with me…
Read Next:
How to Get a Deal on Luxury Cruises