Let me take you on my recent Rhine River cruise aboard AmaKristina, hosted by Fred Franks, CEO of famed Dr. Konstantin Frank Wines. Wine & Spirits Magazine recently awarded the Dr. Frank Wines as one of the 2019 "Top 100 Wineries" in the world. These Rhine River regions with their fairytale villages were the first to introduce the world to the delicious cold-climate grown wines like Riesling, Gewürztraminer, and Pinot Gris. With AmaWaterways' Co-Founder Kristin Karst serving as AmaKristina's Godmother, you know we'll have a distinctive experience aboard this award-winning river ship.
River Cruising
Couples and their families have opted for river cruising versus the crowded ports of ocean cruising to see the destinations only accessible with smaller vessels. Several of the veteran river cruisers aboard helped me discover the myriad advantages of river cruising. Port excursions are not only included with the ticket prices, but they can be changed to alternate choices onboard. The pace of the excursions can be selected.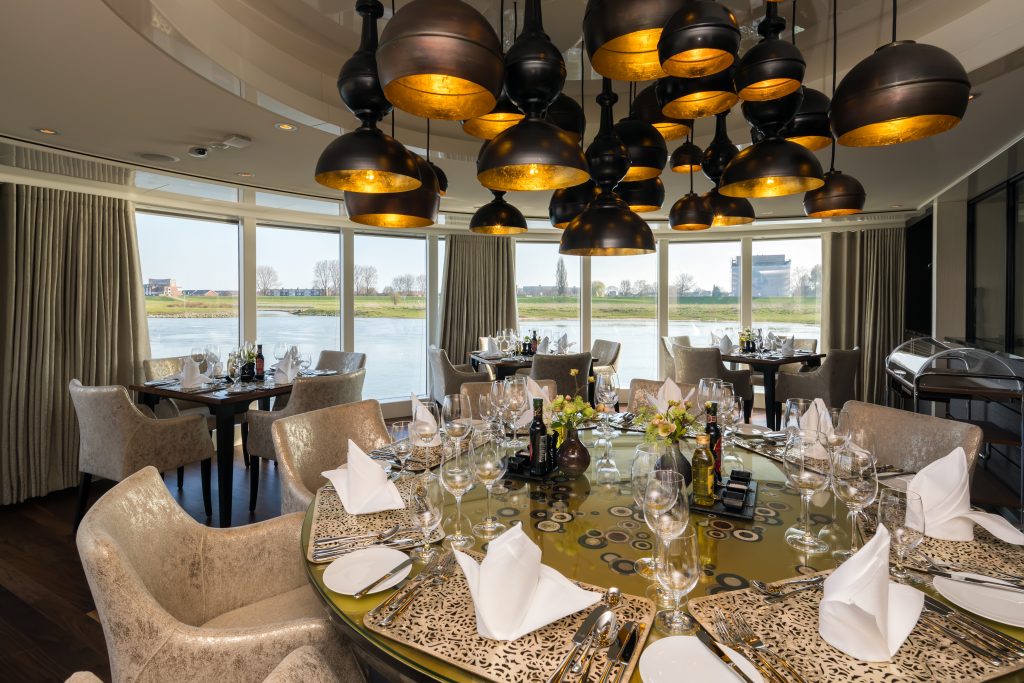 The river cruise menu ingredients are so fresh that they come to the ship at almost every port. Wine and beer are available at every meal and are complimentary. Sip & Sail cocktails in the lounge are gratis prior to dinner. There is no charge to sit at "Chef's Table" and enjoy a multi-course paired wine and food menu. With both a French balcony and outside balcony in most staterooms, you can float by the ever-changing scenery. I have never left a cruise with such a small bill at the end. Such a beautiful visual memory to take home!
Visiting Riquewihr, The Alsace Village Model For The Movie, "Beauty and the Beast"
I have just discovered my favorite fairytale village in the world, Riquewihr, officially recognized as one of the most beautiful villages in France. With only 1500 inhabitants is appears to have remained unchanged over the centuries. Quaint half-timbered houses, cobblestone streets and buildings that date back to the 13th-century line the streets and served as an inspiration for the Disney film, "Beauty and the Beast". Even the local baker came out to greet us with his basket of French macarons.
Heidelberg's Rich History Helps Define The Culture of The Rhine River Region
Dominated by the ruins of its historic castle, Heidelberg is a romantic city. It houses the oldest university in Germany too. Marred by the destruction of two world wars, the red sandstone ruins of the castle have only partially been rebuilt. However, some tell amusing stories of the castle's original construction by Frederick V, Count Palatine of the Rhine, and one of the seven Prince-Electors.
>READ: VISITING DRESDEN, A DAY IN THE PEARL OF SAXONY
He built the castle for his new bride, England's Elizabeth Stuart, the charismatic daughter of King James VI. Elizabeth, upon approaching Heidelberg said, "Oh what a dump." So, Frederick in 1610 hastened to build a magnificent castle fit for her sensibilities. Outfitted with extensive ballrooms, a menagerie, a monkey-house, and an Italian Renaissance garden. The front is dramatically faced with statues of biblical characters.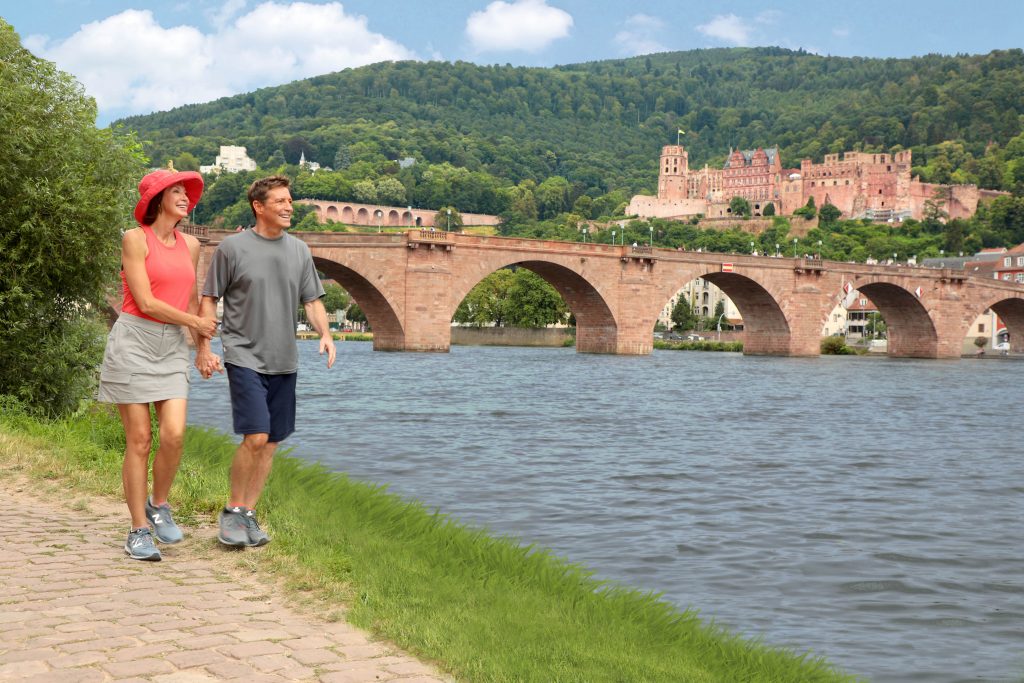 Heidelberg University, founded in 1386, is the oldest university in Germany and the fourth university established in the Holy Roman Empire. It has been coeducational since 1899 and now is 60% female. Its medical school has the second largest cancer research program in the world. The Heidelberg "city of romance" moniker came from a bit of confectionary history near the campus. Given to a beautiful young woman by her smitten young man, the "Heidelberg Kiss" contains chocolate, praline and nougat wafer and comes from Café Knösel,
Castles on The Rhine
A Rhine river cruise is not complete without a tour of the Upper Middle Rhine Valley with its 29 key castles and landmarks. During our sailing of the Middle Rhine Valley, we sat in the lounge and enjoyed the oral travelogue. We plotted our excursion on a map given to us called the "Castle Cruiser." This map features 29 distinct historic castles and landmarks illustrating the history of human involvement in the region set in the varied natural landscape. Many sites are UNESCO designations.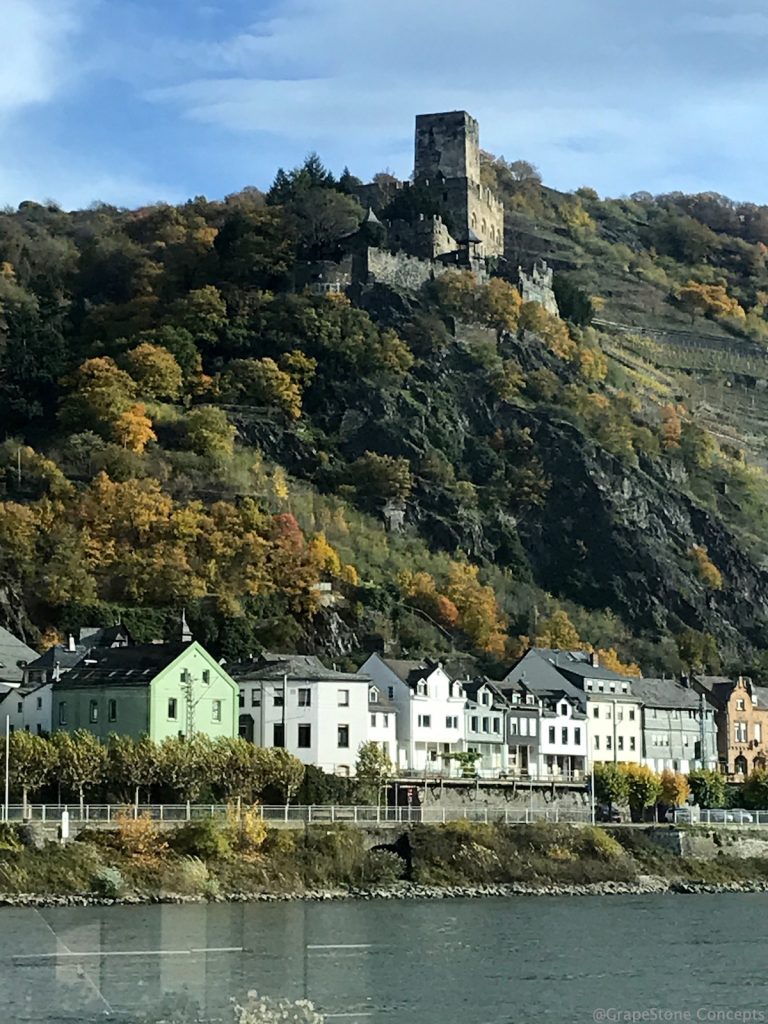 A notable castle is Burg Katz near the Loreley Rock on the Middle Rhine. Blamed for luring the sailors along one of the most beautiful and dangerous stretches along the Rhine, they told Loreley to "get thee to a nunnery." Her namesake song is "The Siren Song of the Loreley" The truth? The stretch of the river between Koblenz and Bingen is one of the narrowest and deepest stretches of the Rhine.
Winemaker Host Describes Wine-Theme Cruising
Members of a winery's wine club came together with other wine aficionados to celebrate friendships and mutual interests in a luxury setting. Wine-pairing dinners, wine history presentations, and wine trivia quizzes entertain and educate the guests. Fred Frank, CEO of Dr. Frank Wines noted,
"This is our third time to host a wine-themed cruise. We make wines from some of the same varietals grown in Austria, Germany, and France. Cruisers can compare and contrast the old and new world wines. Next summer, 2020, we will be hosting a cruise in Bordeaux. We make Cabernet Sauvignon, Merlot, and Cabernet Franc wines from Bordeaux varietal grapes, so the passengers can taste our wines in comparison to French Bordeaux blends."
>READ: 12 TIPS TO HOST A DINNER PARTY & WINE PAIRING
Wellness Program Enhances The Food And Wine Experience
Many cruisers lament the potential for weight gain during a cruise. AmaWaterways instituted in 2019 a wellness program onboard featuring both class and private exercise opportunities. On one day alone the wellness program offered a core-strengthening class, a stretching class, a digestive walk, a high-intensity 100's workout, a guided bike tour, a fast-paced guided tour, and a jogging session ashore.
Excursion Options Difference of a River Cruise
The proximity of the ships to the destinations and their logistics are so much less complicated in river cruising. It is a huge advantage to be able to make selection changes due to last-minute preferences or weather concerns. During our Rhine river cruise, destinations included Cologne, Amsterdam, Heidelberg, Riquewihr, Rüdesheim, Strasbourg, Freiburg in the Black Forest, Breisach, Basel, and the Upper Middle Rhine Valley's Rhine Gorge.
Look for gentle, regular, and fast-paced walking excursions guided by knowledgeable local hosts to fit your pace. Each excursion provided headsets so we could hear every word. No need to have to stand right next to the tour guide to catch his voice for the full history and landmarks of our destination.
Our Cruise Manager, Betti, Gave Us A Wonderful Experience
The Cruise Manager made all the difference in our trip. They are the officer who represents the cruise line at every stop and event. She ensures everyone exits to the right excursion, gets back to the ship, and is delighted with their food and entertainment. She gets off the ship at each stop and fulfills many personal requests. Often, she has the hard task of getting difficult to obtain reservations for well-ranked and Michelin Star restaurants at one of the stops.
I had the pleasure of interviewing our Rhine river cruise manager, Betti Keese, a veteran of countless river cruises. Betti began with AmaWaterways after hosting some of their "Adventures by Disney" family cruise vacations. On those cruises, 1/3 of the guests are under 18 years of age, a tough crowd in my estimation. However, per Betti, her most unusual request ever was when "a husband requested we shower their whole stateroom in Rose Petals for his wife to celebrate a special anniversary."
Will You Consider a Wine-Themed River Cruise For Your Next Vacation?
After my Rhine river cruise experience and talking to passengers and crew, I want to consider another river cruise in an even more exotic location. Why should I not consider the "Colors of Provence" (Southern France) cruise? Or the "Enticing Douro" (Portugal) cruise? Maybe "Melodies of the Danube" (Hungary, Austria, Czech Republic) cruise? Or "Paris and Normandy" (France) wine cruise? Or any of the "Taste of Bordeaux" (France) cruises? I am sure that even the "Riches of the Mekong" (Cambodia and Vietnam) will not be short on wine tasting. The wine director will make certain my glass is full.
>READ: CRYSTAL RIVER CRUISES: A NOTCH ABOVE THE REST