A version of this article first appeared on mylittlebird.com.
Michelle Dockery plays a rifle-toting widow in Netflix's new limited series "Godless" and a con artist on Amazon's "Good Behavior." So obviously she has moved on from playing Lady Mary in "Downton Abbey."
The rest of us aren't willing to move on so quickly from the upstairs-downstairs country-house series, apparently viewed by some 120 million people over the course of its six seasons.
But while we wait for the "Downton Abbey" movie that is said to be coming, there's–party hats! H
orns!–"
Downton Abbey: The Exhibit
."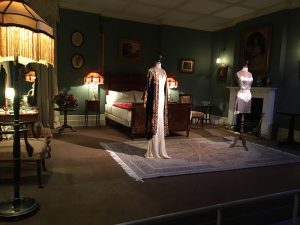 The multimedia exhibition was produced by NBCUniversal International Studios and many, many other sponsors, and allows us to wander at will through the downstairs and upstairs halls of Downton, gazing at the workaday kitchen (as far from a 21st-century trophy kitchen as one can imagine), the butler's pantry, the upstairs dining room with its many portraits and gleaming silver, Lady Mary's bedchamber, an oddly timeless place. We can, and did, even touch things–books put out for us to consult, drawers to open disclosing documents ersatz and real, a wireless radio dial (I think that's what it was) that seemed to promise a lot but didn't deliver much of anything.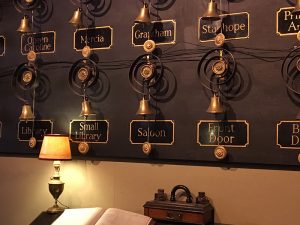 Most of the visitors to this celebration of a lost, or discarded, way of life, have been happily steeped in the minutiae of Downton Abbey, where life "in service" was shown to be at least as interesting as the life of those served. Although we visitors get to walk beyond the green baize door separating the family's living areas from the servants', the upstairs rooms aren't quite as well represented because they were real, shot on location at Highclere Castle, which played the role of Downton Abbey.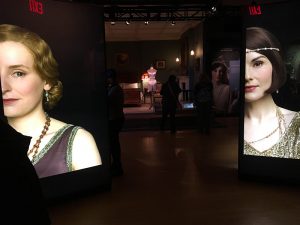 Placed throughout the three-level exhibition are larger-than-life photos of familiar characters; also there are videos of Mr. Carson, the butler, and Mrs. Hughes, the housekeeper, whose sudden "appearances" allow them to welcome us to the house and bid us farewell.
Commercial exhibitions such as this one are more like World's Fair installations than exhibits in proper museums. But I've been to the French fry museum (in Bruges, Belgium), a chocolate museum (Barcelona), the pasta museum (Rome) and others, and I find that the wall plaques and artifacts in these displays are more detailed and give more historical and social context than those in many a Smithsonian exhibit.
They are also often more fun: There's a fun interactive quiz, an "application for employment," that told the woman ahead of me that she qualified to be a Lady's Maid, an "upper servant" who traveled with her mistress, did her hair, helped with dresses and accessories. Another visitor got the sober news that she would have to start as a House Maid. Me? I was promised my own domain, as Cook, with my own posse of Kitchen Maids and outside purveyors, housekeeping logs—and the longest work day of any of the downstairs lot. Lucky me!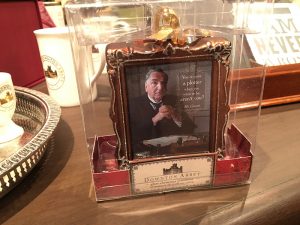 "Downton Abbey: The Exhibit" began its life in Singapore and is in residence in midtown Manhattan through the end of September 3, 2018. Other North American cities on the exhibit tour will be announced as dates are firmed up.
"Downton Abbey: The Exhibition," 218 West 57th Street, New York; phone 866-811-4111; open 10am to 8pm, generally, Monday through Sunday (open on Christmas, New Year's Eve and New Year's Day); check website for hours, as they vary. Timed tickets are $30 per person, $28 for seniors, $15 for children 4 to 12.