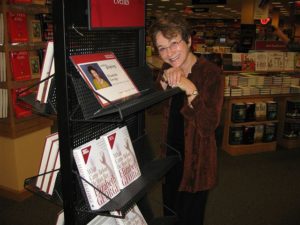 An Introduction to the New York Times #1 Bestselling Author:
On October 25, 2015, the NYT's Book Review celebrated Elizabeth George's 19th entry into her canon of Detective Lynley Mysteries with A Banquet of Consequences by giving her and the new book a two page, full-color ad in the centerfold. In bold print running across the top of the two pages were the words "You can never outrun your past. Redemption comes at a cost. And consequences can be deadly."
It was followed in red by, "The new Lynley novel from the #1 New York Times bestselling author Elizabeth George." On one side of the page was a near life-size photo of a hardback copy of A Banquet of Consequences and on the other a beautiful photograph of Ms. George.
Finally, a quote each from the Seattle Times, USA Today and the Wall Street Journal all giving today's Prime Women Interview subject superlative compliments on her writing style and the substance of her "intricate mysteries." Let's get to know Ms. George better.
The Interview with Elizabeth George
Thank you so much for taking the time to answer our questions. Also, at the outset, I have to express gratitude to Beth Robinson of Carmel, CA, our mutual friend, for making the introduction to you. I thank Beth so much for this generous act. Now, to our questions!
Prime Women (PW): Many avid readers are fascinated by the writing process. From online research, I learned that you submit manuscripts to your publisher that require little to no editing and can basically be printed "as is." The fact that your writing requires minimal or no editing says that you spend a considerable amount of time researching your plotlines, characters, locations and equally as much energy writing and polishing your work.
If it's not considered proprietary information, could you tell us how long it takes to research, develop and prepare your manuscripts for publication?
Elizabeth George (EG): It generally takes me around 18 months and at least two trips to England to do the location research and other research.
PW: What percentage of time is spent on each step of the process: For example, research vs. actual writing?
EG: I really could not give a percentage aside from saying that the vast majority of my time is spent on writing the novel.
PW: As a creator of a very successful franchise of best sellers, the Detective Lynley Mysteries, are you constantly writing stories for the series in your head? If yes, how do you decide which to develop first?
EG: No. I only have one idea at a time.
PW: I know that from time to time that you teach others the craft of writing and have been an instructor at fellow Prime Women Interviewee, Elaine Petrocelli's (Book Passage) Mystery Writers Conferences. Is teaching others a gratifying process for you and a pleasant break from writing?
EG: I have been a teacher since 1975, first at the high school level and then the college level. I now teach at conferences and retreats. I'm committed to the idea of passing the craft along to other writers. One cannot teach talent, passion or self-discipline. But one can teach craft.
PW: I always ask people what they are reading or if they have a favorite all-time book. Would you answer either or both questions? I know that our readers would be interested in hearing your response.
EG: I'm reading a book by Laurie Frankel that will not be published until 2017. It's called This is How It Always Is, and it is fabulous.
PW: I have to disclose that I have read every one of your 19 Detective Lynley Mysteries. I hope that if our readers aren't familiar with your work that they will go back to the very first one and become a fan. I enjoyed all of them, including the most controversial Elizabeth George "With No One As Witness" Lynley mystery. The uproar that it caused shocked me, and I know it caused you to have to address the section of the book that left your most devoted readers questioning your judgement as a writer. I'm not going to include any spoilers in this interview or next week's review of A Banquet of Consequences. The excitement of reading is discovering all the bits and pieces that cause the arguments and discussions. Both are great pleasures in life i.e. reading and talking about what you've read with other book lovers.
Happy reading!