There comes a time in every woman's life when she looks at her face in the mirror and sees the little changes that time is beginning to sneak in. The wrinkles under the eyes, the forehead of worry lines, the skin having lost it's glow, brown spots and broken capillaries emerging. These are markers of life – of living, laughing, and loving. Markers of many challenges, endless joys, deep heartaches, and above all, survival. Unfortunately, they are also markers to the world that symbolize that dreaded word: AGING!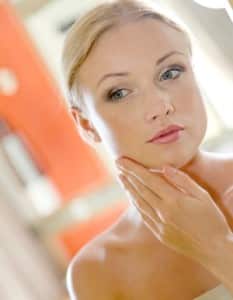 Often, the thoughts that come to mind when looking in the mirror are: "I'm starting to look just like my mother!" or "I'm starting to look just like my father!" thoughts that are usually followed by "I don't feel that old! What do I do now?"
Fortunately, there are now endless options for facial rejuvenation. No longer is a facelift the only way to tighten a sagging jawline or a painful CO2 resurfacing with weeks of healing needed to smooth the skin. Conversely, the look of an over tightened and "overdone" face is a thing of the past. Natural-looking beautiful skin IS possible at any age. So the individual question is: "What is best for me?"
These days the average consumer is inundated at every turn with advertisements and promises of beauty. Catchphrases like, "tightens, lifts and firms" are overused and only adds to the confusion of which way to turn. The truth is, most of us don't mind paying for treatments, as long as quality results are delivered. But we also don't want to pay for services that are unnecessary or have low results. This article is meant to be a quick primer of sorts, of options for facial rejuvenation from the simple microdermabrasion to more invasive skin resurfacing. The areas typically treated are the face, neck, chest, hands and arms. It will help you to identify your particular needs and help you set realistic expectations.
Ultimately, the best results are achieved with a variety of treatments, each with a specific purpose. There are no quick, singular fixes. Beautiful skin, like anything else in life, requires maintenance. Results are dependent on many factors such as lifestyle, diet and genetics. They are also dependent on the quality of the laser and especially on the experience and expertise of the treatment provider. It is imperative to seek consultation from an expert in the field and not be persuaded to purchase the internet deal of the day.
Many of the treatments can be combined at the same appointment. The average range of prices stated are for the face only. Added areas are at an additional cost.
Microdermabrasion
Microdermabrasion is a skin care treatment that uses tiny rough grains or water to buff away the surface layer of skin. The procedure is very superficial and only removes the top layers of dead skin cells – part of the stratum corneum – and stimulates cell growth in the underlying dermis. Microdermabrasion can help give a fresher and smoother appearance to the skin and can be a safe treatment before an important event. There is no down time, though you may be a little pink after your appointment. Repeated treatments are required because results are superficial and temporary, lasting a week or two. Prices can range from $75-$150 and is suitable for all skin types.
Chemical Peels
Chemical Peels
– a variety of chemical solutions are applied to the area, causing the top layers of dead skin to slam together and slough and peel off. There are numerous types and levels of chemical peels. The regenerated skin is generally smoother and clearer, and acne is reduced. Chemical peels are not truly restructuring at the cellular level and have little benefit for redness There are also peels on the market to combat hyper-pigmentation that are even safe for darker skin types. Chemical peels can be light, with only some flaking, to very deep with one week of heavy peeling. Results last 1 – 3 months. Prices can range from $99-$350 and are safe for all skin types.
Micro-Needling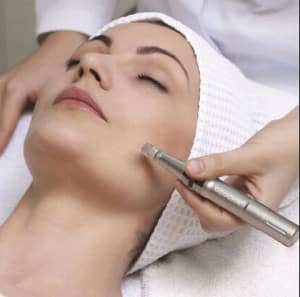 Increasing in popularity is micro-needling. It goes by many names, among them SkinPen and MicroPen. It is similar to microdermabrasion in that it is a mechanical removal of the epidermis. The treatment can vary from very superficial to deeper in the skin, depending of the goals of the individual. Micro-needling can remove superficial brown spots, minimize pores and acne scars and stimulate new collagen, but not effective on redness. It is done with a small vibrating handpiece containing a series of tiny sterile needles that create micro-injuries. These micro-injuries stimulates the skins immune response to produce new collagen and elastin. A series of six treatments, spaced one month apart, are needed for maximum benefit. After each treatment your skin will be red and in some cases, have tiny pinpoint bleeding if a more aggressive treatment is desired. Prices range from $199-$300 and is suitable for light to medium skin types. After the initial series of treatments, maintenance treatments at least two times per year are required.
Laser Treatments
This topic can be especially confusing for the consumer. "Laser" may seem a catch-all for many different treatments. First, I will explain light energy laser treatments, then laser treatments which are typically fractional CO2 or erbium. They are ablative and destructive to the tissues, thus resurfacing the skin. Laser treatments are incredibly effective at reducing visible signs of aging as well as proven to reduce the progression of aging.
Halo Laser Skin Resurfacing is Revolutionary
Light Energy Laser Treatments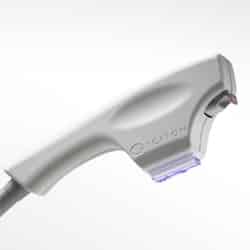 Also know as Photo Rejuvenation, known as BBL (BroadBand Light), Photofacial and IPL (Intense Pulsed Light). Hair Removal is also a light based treatment. Light based energy laser treatments are considered non-invasive, meaning the epidermis is left in tact. The intense pulsed light penetrates skin in deep levels causing a response to produce new collagen and connective tissues, creating healthier and smoother skin. The BBL/ IPL is superior for treating rosacea, sun damaged skin, large pores, age spots, facial veins, and wrinkles.
A recent clinical study called "Forever Young" revealed that over the course of a decade, 3-4 treatments per year of BBL actually reduced the appearance of aging by 11 years. The photothermal energy targets and eliminates many of the fine vessels that cause redness and the unwanted melanin responsible for pigmented lesions. Texture and tone is improved by the stimulation of new collagen. The light energy delivered by the BBL gently heats the upper layers of the skin. The heat absorbed by the targeted areas coagulates tissue to variable depth. This process helps repair and restore the skin. Each treatment lasts 3-4 months. An interesting tip: Many spas sell the IPL in "packages" of 6. However, if the treatment is performed with a high quality laser by an experienced professional, few people ever need a series of 6 treatments! Quarterly treatments are recommended for anyone over the age of 40 and 3 per year for those under 40. Prices range from $249-$349 and are suitable for light to medium light skin types.
Resurfacing, Ablative Laser Treatments
When deeper restructuring or remodeling is desired, laser skin resurfacing is the choice.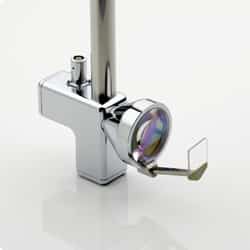 The options are endless and it seems new lasers are constantly being marketed. Sciton's ProFractional and the new Halo is one of the best well known and highly effective lasers. There are others such as Fraxel and The Dot and many more. In the early days of lasers, laser resurfacing meant the entire epidermis was vaporized, creating long, painful healing times and a higher risk of infection and scarring. These days, the majority of laser resurfacing is fractional. This means that a laser beam is split into thousands of exact sized pieces, creating tiny holes in the epidermis while leaving some skin intact to promote faster healing with less down time and minimal risk. Laser resurfacing is customizable, allowing different areas and concerns to be treated at different levels. The treatment can require a few days to a week of healing time but provides dramatic improvement to fine lines, scars, irregular tone, tightening, lifting and superior collagen remodeling. Prices range from $599-$1200 and is suitable for light to medium light skin types. The results are permanent, but it is recommended to repeat the treatment every couple of years, as the aging process does continue.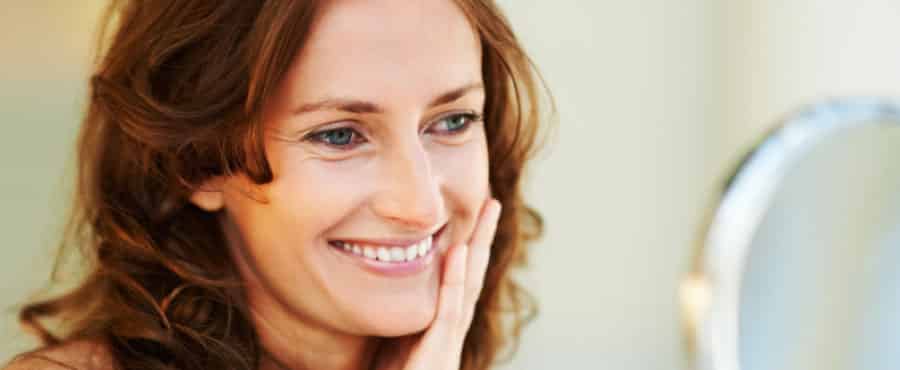 The ideal way to achieve a youthful, beautiful you is with a combination of different treatments that addres your unique experiences of the aging process. For example, regular BBL's will keep the collagen thicker and skin clear and vibrant, but it can't address the fat loss that may be occurring in the cheeks, nasal labial folds or the lips; or the lines between your eyebrows on your forehead and the crinkles at the corners of your eyes. Only soft tissue fillers such as Juvederm and Restylane (done about twice a year) can replace the lost volume, and Botox or Dysport (done every 3-4 months) erase expressive lines. It is the combination of different treatments that is the most effective, most natural way to turn back the hands of time and embrace the future feeling and looking beautiful.