When we think about cosmetic surgery, we often think about lifting, nipping, and tucking to make desired changes. Topics that traditionally come to mind include facelift, breast lift, tummy tuck, or thigh lift. These cosmetic procedures typically rely on the excision of loose skin and possibly excess fat as well.
Fortunately, talking about plastic surgery has never been easier. More and more celebrities and influencers are getting candid on TV and social media about their experiences. In turn, that's helping spark conversations within our daily lives about different procedures. One celebrity that's been particularly open about her experiences is Real Housewives of New Jersey star Dolores Catania. Catania has shared her experiences about getting liposuction, a facelift, a tummy tuck, and more. She also expressed her interest in getting a thigh lift, prompting many to wonder if this lesser-known procedure may be right for them.
If you've been thinking about getting a thigh lift but aren't sure where to start, we've compiled this resource just for you!
What is a thigh lift?

Let's start with the basics. As the name implies, a thigh lift involves surgical body contouring to remove excess fat and skin around the thigh area, thus creating a 'lifted' appearance. As we get older, our collagen stores deplete more rapidly, making it harder for the skin around our body to stay smooth, firm, and elastic. This can cause loose, sagging skin around areas like the underarms, stomach, and thighs. Along with leading a healthy and balanced lifestyle, a lifting procedure can help you achieve a more youthful and sculpted look.
It's also important to note that there are different types of thighplasty procedures available. Along with mini lifts meant for patients who don't need a major change, there are inner, vertical, outer, posterior, and spiral-type procedures. Some patients also undergo liposuction in tandem with their lift procedure. Depending on your specific needs, your plastic surgeon will help determine which type of thigh lift is best for you.
Who is an ideal candidate?
Fortunately, there aren't any super-stringent requirements for who can have a successful thighplasty. However, most plastic surgeons recommend the procedure to those who have maintained a stable weight. For example, if you've recently lost a lot of weight and want to remove excess/sagging skin, you'll want to make sure you're able to maintain your lower weight before undergoing the procedure. If you end up gaining that weight again, it will negate the effects of the surgery.
Thigh lift surgery is typically performed for people with increased skin laxity and excess skin on their medial or lateral thighs. Liposuction is often incorporated into the procedure to enhance results further. People considering a thigh lift should have moderate to severe skin laxity to warrant the procedure. Loose skin is excised in the medial thigh crease along the groin to hide the scar. For those with severe skin excess, the lift procedure can be extended medially, along the inner thigh, down to the level of the knee to achieve maximal excision of loose skin.
A thigh lift is also good for those with a lot of soft tissue. This tissue can create a dimpled appearance which many want to smooth out. In cases like these, a thigh lift can help remove extra fatty tissue and tighten the appearance. As we mentioned earlier, your technician might recommend liposuction along with a thighplasty.
Of course, as with any plastic surgery procedure, it's important to set realistic expectations for yourself. Depending on your situation, you may want to consider a body lift (thigh and buttocks) to achieve your desired results.
What to expect before, during, and after the procedure: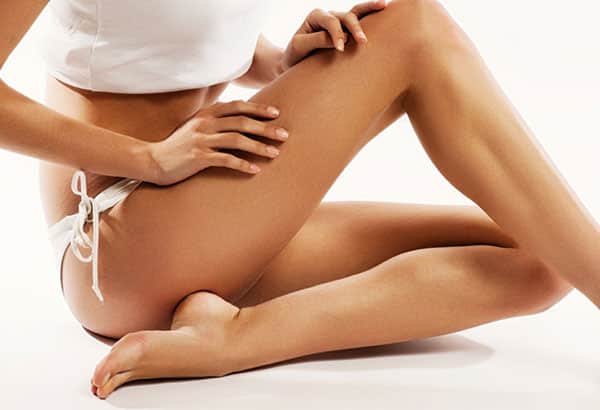 Once you've decided that a thigh lift is right for you, it's time to begin prepping for your consultation and procedure.
Prep
During your consultation, your plastic surgeon will have you explain the results you're looking for. Then, they'll examine your target areas and recommend what subtype of the procedure will help you achieve the best results.
Once your procedure is scheduled, your surgeon will ask you to stop taking medications that can cause bleeding, like aspirin and ibuprofen. Depending on your surgeon, you may be asked to undergo a short medical evaluation as well to ensure you're a good candidate.
Regardless of which type of thigh lift you'll be undergoing, it's important to recognize that the procedure itself (including pre-and post-op) will likely be an all-day event, so plan accordingly!
The procedure itself
Unlike some non-invasive procedures, the doctor will give you anesthesia for this one. This means you won't be awake while the incisions are being made. Once you come in for your procedure, your surgeon will administer the proper amount of anesthesia and begin your thigh lift.
Your surgeon will begin making incisions around the target area for the specific type of lift you're getting. Then, they'll remove excess fat, skin, and soft tissue. Once everything is removed, they'll begin inserting sutures to close any of the incisions they made.
What recovery looks like
A thigh lift is a major procedure, and it will take time for you to recover. Keeping that in mind, you should take any time off that you need to heal fully. It's common to experience pain, bruising, and swelling. You'll also want to keep your legs elevated whenever possible.
Immediately after the procedure, your surgeon will dress your wounds to help ease swelling. They may also insert a tube to help drain excess fluids. Once those are taken out, full recovery takes about six weeks. During that time, you shouldn't lift excess weight or do heavy exercises.
Thigh lift scars are meant to be hidden at the groin or medially at the thigh but are necessary to remove the skin excess. With time scars will fade but are always present. To determine if a thigh lift is worth the time and expense, it would require you to consider if the thigh lift scars are worth it. When you have moderate to severe skin laxity along the medial thigh, a scar is not such a bad alternative. But, if only mild skin laxity is present, you may not necessarily consider a scar an improvement over loose skin.
Read Next:
6 Inner Thigh Workouts to Shape and Tone
5 Exercises To Get A Smaller Waist