How do you approach your parents about downsizing? Carefully. Very Carefully! While you are together over the holidays, it may be a good time to open the discussion.
To you it may be "stuff," even a nuisance. To your parent or parents, it may be treasured possessions, each with a special memory. Before you have that talk, you need to prepare your mind and attitude to understand theirs. It may be one parent or both, treat each as an individual.
Understand.
You know your parent is aging. You know that soon the roles may be pretty much reversed between parent and adult child. Speaking in the case of one parent, that parent may already be dealing with loss and all the emotions that go with that loss. The loss may be recent or years earlier, but still fresh to that parent if it was a loving relationship. There may be health and or financial issues that have to be considered.
Respect.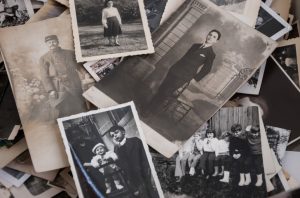 Hopefully, you have a loving relationship with your parents. Whatever the circumstances of your childhood and current relationship, you need to remember your parent (or parents) as an individual with a life history. As a young child, teen, young adult, parent, working professional, homemaker – each had dreams. For some, they put off their dreams or put them aside for family. The life they lived formed them, their character, their fears, their joys, their sorrows and regrets. Each step they took created memories and often took physical form in what you see in the home. Respect the journey.
Patience.
Some may easily let go; for others, it is pure torture. Who is your parent and how will that individual likely react? For the former, your conversation should be pretty straight forward. Make suggestions cautiously, but most of all listen to what ideas and solutions your parent has in mind.  Respect their opinions and work to address the challenges as a team. The best way, if at all possible: Parent as Leader, you as support.
Compassion, understanding, respect, patience.
For the parent whose whole being is expressed in their home and contents, it is not straight forward. Just remember, your parent, though not as strong or possibly mentally agile as before, is an adult who has had the reins for many years. Don't yank the reins away and dictate how it is going to be…"for their best interests." Empathize genuinely. Take time to listen. Hear what your parent wants to do. What are they willing to give up easily? What could you welcome into your or your siblings homes? Parents always want to know that some of their treasured belongings have meaning to you, too. Offer ideas, options, support, and respect for how hard it is to let go. Guide gently, while being fully present with love and respect.
Once the downsizing decision is made, it is often helpful to bring in a qualified, experienced appraiser who can help with value and options. A qualified appraiser is often also an estate consultant, which is a real plus if you find one experienced in estate consultation issues. Be sure and check education, experience, and references.
Find someone who will treat your parent with compassion, patience, and most of all, respect. Find someone who can give you the information you and your parent need to make knowledgeable decisions as to how to optimally disperse their personal property.
Some options for downsizing can include:
An estate or garage sale – Your family can run a sale if you have an appraiser or estate consultant to help, or you can hire an estate sale representatives. (I usually say run from estate sale people who identify as estate liquidators, but many do. Thinking about it – would you rather have an estate sale representative or a liquidator selling your parents possessions?)
A local auction for the general household; a better auction for antiques, art, and appreciable items; a major auction for very expensive items.
Local charities such as Hearts for Hospice, Salvation Army, Good Will or appropriate Museums for valuable art, antiques, etc.
Some companies will come in and take everything away at an agreed upon price. However, these companies generally do not offer much.
Plan for the New Space Together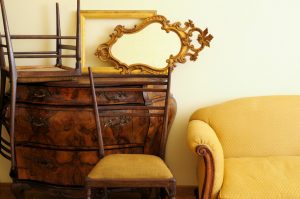 If your parent has to move, work with them to plan out the space to bring as many of the most treasured items to the new living space as is realistic. Your parent should make those choices if at all possible, with suggestions on practical and safe placement of furniture. Bring several furniture pieces for treasured smaller display items. Leave room for art and family photos and mementos. Bring several plants for life and color if possible.
Remember: This is your parent (or parent's) life you are dealing with. Working with your parent or parents, you can get the job done and further cement your relationship through the time you shared solving the downsizing dilemma.