Yes and no… In this month's Dermatologic Surgery there is a good article that reviews the hand-held home-use cosmetic laser and light devices.
The article points out that there is a lack of scientific studies to support the beneficial claims of at-home devices. Because these devices are considered cosmetic, the requirements to get them FDA approved are minimal compared to the requirements to get a medical device approved – the laser in your doctor's office.
Do laser products work and are they safe?
In the medical office, the main risks with laser and IPL are damaging to the eyes. They can also burn the skin in some cases. To minimize these risks, patients are asked to wear protective eyewear. The power of the device can be adjusted to skin type to avoid burning the skin. While there are a lot of at-home devices to choose from the article only reviews those that have some studies to support their claims and address safety.
At Home Lasers
Tria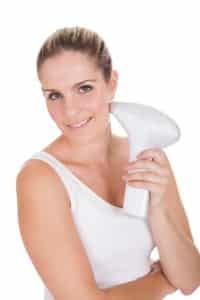 One of the laser device, Tria, is specifically being marketed for anti-aging. A study of 34 patients using Tria on the face showed at least a 1-point improvement in skin discoloration, wrinkles around eyes and mouth, and skin roughness. This was after 12 weeks of use.
If you are wanting to re-build collagen the Tria is a good choice. It costs $495
Nira
The Nira is another laser you can use at home for professional results in reducing wrinkles around the eyes. The FDA has only approved it for eye wrinkles. The small handheld NIRA Skincare Laser stimulates natural collagen production to reduce fine lines in just two minutes a day. It costs just under $300 when it's on sale. When it's not on sale is $495.
At Home Intense Pulsed Light
Intense pulsed light (IPL) devices are mainly being marketed for hair removal. Both the Silk'n and the iPulse Personal were effective at reducing hair growth after three treatments by about 45 percent. This was after 6 months. Each device has a skin color sensor to prevent use in darker skin types.
A good tip to know – black hair on pale or white skin has the best response to hair removal from laser or IPL. This is because the laser or IPL targets dark color. The heat energy is absorbed by the dark hair which destroys the hair follicle. If the surrounding skin is also dark as in African American skin, then the dark skin could also absorb the heat resulting in burning the skin. People who tan and get laser hair removal are also at risk for burns. Hair removal devices will NOT work on grey or blonde hair.
In conclusion, hand-held, home-use devices are not as powerful or as effective as the laser and IPL in the Doctor's office. In regard to hair removal, however, there may be advantages especially if considering numerous areas. The consumer will be the ultimate judge regarding the value of these devices.
*If you do decide to purchase a hand-held device please follow all safety precautions recommended by the manufacturer. If you should develop any complications, see your physician.
Read Next:
How to Finally Minimize The Appearance of Pesky Age Spots
Best Fix for Wrinkles Around the Eyes