I must admit, I am excited about life in Britain post-Brexit. But then again, I am an entrepreneur and have long learnt that change brings opportunities – it's just hard spotting them and knowing which ones to exploit!
However, the day after the UK referendum I was very much alone in my excitement. I was on holiday at the time, but still in touch with a number of clients. I had delivered a project to one client on the evening of the referendum and he came back the next morning to say,
"A bright spot in an otherwise truly dreadful day (at least for me). Having worked extensively in the EU all my working life and remembering what it was like to do business before we were a full member, I see only troubled days. And the thought that bright kids like [my daughter] will not have free work opportunities is terribly sad."
Other clients used words like 'catastrophe' or even 'Armageddon'.
Now, just a month later, things look and feel very different. There is no doubt that installing Theresa May as our new prime minister, so quickly, was a master stroke. It has brought stability and confidence and people are now starting to look to the future.
In the Financial Times this morning I read 'UK industry welcomes Theresa May's strategy pledge'.
We haven't heard the 'industrial' word in government policies in years (well, we might have had them there, but the policies behind them were non-existent and certainly ineffectual). It's exciting!
According to the FT article,  "The CBI and other business lobby groups …. want to see a collaboration with the government on which sectors are best placed globally and on how to remove barriers to innovation."
While the pound dropped like a stone when the referendum results were announced – and have still not recovered – even this brings opportunities. Our manufacturers can now be extremely competitive on export prices. In my own business I've even noted change. For example, for recent work in Dirhams (we do business in the UAE) the exchange rate fall will mean $3,700 additional fees for the year.
The FTSE share price index also initially plummeted – but is now steadily recovering. Certainly not a post-Brexit Armageddon?
Some have been quicker to spot opportunities. The well respected Helena Morrissey, chief executive of Newton Investment Management, which manages $66bn of mainly pension funds, got her team to look at Brexit opportunities the day after the referendum. As she pointed out, some companies were 40% cheaper than the day before – so she got her team to start buying.
This may have been a smart move when you look at the likes of Rolls Royce – the engineering business. It fell to 555 as the news of the referendum hit the streets, but is now at 750 on an upward curve.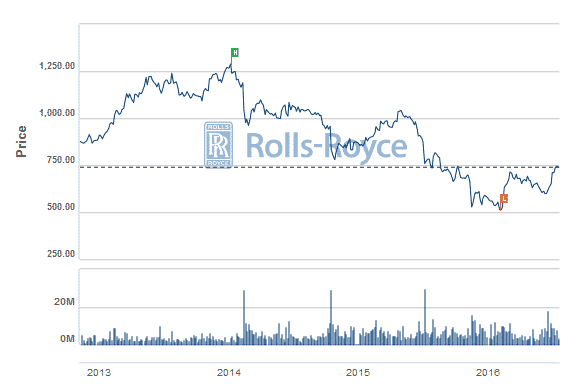 The company was reported in the Telegraph as saying "It is important to remember that Rolls-Royce is a global company: two-thirds of our revenue and three-quarters of our order book is generated outside the EU, so the UK's decision will have no immediate impact on our day-to-day business."
A friend of mine who is helping Chinese companies to invest in UK, signed off a deal two weeks after Brexit and said in an email: "We are confident the Brexit will not affect our Chinese investors' appetite … (for) investment in Britain."
Already we are seeing changes that I think are for the better. Many young people were dismayed by the result – yet had not voted. I have not heard young people so interested in politics and having such good quality debates, ever.  I hope next time more will actually vote and be active. Additionally, housing prices are falling – which might mean our children can eventually afford to buy a house.
As a result of this change, we now have a second female prime minister – yes! And Theresa May already seems to have a very different style of leadership from preceding male prime ministers and indeed, Margaret Thatcher. From the little we have seen, this time it feels like we have a woman who can be authentic and is concerned about doing the 'right thing'. According to Sarah Burnett, one of the UK's most influential women in IT, nearly a third of the Cabinet are women is partly due to Theresa May actively encouraging women over the last decade.
And nearer to home, how is post-Brexit affecting our own business? At Northern Lights we help B2B clients with internal and external communications, media relations, social media and leadership skills for impact. So we operate in an area where if clients were panicked, you would expect them to cut our services. But not a single client has suggested this yet. One senior accountant who works with FDs of large corporates said they had barely had any conversations around Brexit with their clients. It is very much business as usual.
Ten days after the referendum, I wrote a blog 'Brexit – Time to Ignore the Doom-Mongers' because I was so fed up with the negative media comments. I made the point that journalists love uncertain times – they may seem to hate it all, but they come alive with dramas and predictions of gloom (which rarely materialize). I also posted this blog on LinkedIn and was delighted at so many positive responses and feedback (click here to read the comments).
I asked my colleagues what their feelings about post-Brexit and our own business are at the moment – and all of them have pointed out that we have had more business enquiries in the last few months than in years; therefore, they feel confident.
However, one colleague commented, "Too much was placed on immigration and that leaves an unpleasant taste. I'm proud we're such a diverse and welcoming nation and this felt like a xenophobic vote." Actually the people I know who voted to leave were about bringing back control for the economy to our country – which had nothing to do with immigration. Again, I am not sure the media are really reflecting the reality in the country.
So I am really upbeat about post-Brexit and the UK. Sure there is uncertainty, but there is a feeling of freshness and energy around and I think this will bring out the best of British spirit and innovation.
It would be great to hear how post-Brexit looks to our friends across the ocean? What do people in America think? Do you still want to trade with the UK? Do you think our relationship could be even stronger? We hope so!