Come Join Prime Women for an Exclusive Experience in the wine country of Sonoma. Enjoy a sunset cocktail party in a hilltop private home, a private tour and talk with the Healdsburg Museum leaders, fine dining at iconic restaurants like John Ash and of course, tours at fabulous wineries. Our Prime Women readers like unique experiences and this one won't disappoint!
HURRY! ONLY A FEW SPACES ARE LEFT!
Overview:  A spectacular three-night girls' trip to the Sonoma/Santa Rosa Wine Country during Harvest Season!
Your Hosts:  The intrepid duo of Valerie Freeman and Dorthy Miller Shore, co-founders of Prime Women, are leading this inaugural adventure. World travelers and business amazons, they are fearlessly determined to make sure all times are good times. When Valerie and Dorthy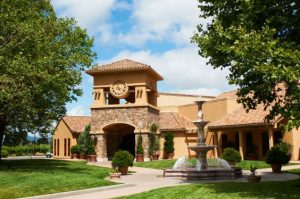 are jazzed about an event, you know it is great. And they are super primed for the Sonoma trip!
Your Travel:  Our travel partner is another award-winning female entrepreneur, Alex Ramsey, of All Aboard Travel, a member of the exclusive Virtuoso network.
The Hotel:  Your hotel, Vintners Inn, is an elegant and sophisticated home-base situated on 92 acres of lush vineyards and beautifully landscaped gardens with courtyards and fountains. Guests may stroll around the grounds or jog a two-mile trail through the vineyards. Enjoy Bocce ball among the redwoods while sipping a glass a wine!
DAILY ITINERARY
October 15, 2018 – Monday
3:30-5:30            Arrival and check-in Vinters Inn from respective airports
6:30-9:30            Group dinner at John Ash restaurant Vintners Inn
October 16, 2018 – Tuesday
7:30 – 8:30        Breakfast Vintners Inn
9:15                    Van departs for touring at Ferrari Carano (25-minute drive, 20 miles N of hotel)
10:00 -11:25      Ferrari Carano Tour and Tasting
11:30                  Depart for Coppola Winery
11:45 -1:45        Coppola Winery at Geyserville for lunch, tasting, and tour (8 miles, 15 minutes)
1:50                    Depart for Vintners Inn (15-20 minutes, 15 miles)
2:05-3:30           Free Time
3:30                    Depart for Sonoma town (45 minutes, 26 miles) and Sunset Cocktail party
4:15 – 5:30         Winery tastings and exploring Sonoma on your own
5:35                    Depart for Mr. and Mrs. Robert Cruddup's home on Sonoma Mountain
6:00-8:30           Arrive Cruddup's for Sunset Cocktail Party
8:30                    Van returns Vintners Inn (60 minutes, 35 miles)
October 17, 2018 – Wednesday
7:30 – 8:30          Breakfast Vintners Inn
8:45-9:25            Santa Rosa Farmers Market (5-minutes from hotel, 1 mile)
9:30                     Van departs Farmer's Market for Napa
10:15-11:15        Cakebread for tour and tasting (35 miles, 46 minutes)
11:30-1:00          Beringer (8 miles, 15-minutes) for legacy cave tour and tasting
1:05 – 1:15         Van departs for Greystone Culinary Institute (6 miles, 10 minutes)
1:15-2:25            Lunch and tour of Greystone Culinary Institute
2:30 – 3:05         Van returns to Vintners inn
3:45-4:00            Van departs for Healdsburg (11 miles, 13 mins)
4:00-5:00            Talk with Healdsburg Museum and Historical Society
5:00 – 6:00          Downtown Healdsburg for Exploration, Shopping, Wine Tasting on your own
6:00 – 8:30          Healdsburg Dinner – Chalkboard
8:30 –                   Van departs for Vintner's Inn
October 18, 2018 – Thursday
7:30 – 9:00          Breakfast Vintners Inn
11:30 am             Check out Vintners Inn, guests depart to respective airports
$2600 ALL INCLUSIVE
(excluding airfare and airport transfers to hotel)
For more information, please email [email protected], or contact Julie Schmidt at All Aboard Travel:  214-521-8444 or email [email protected]