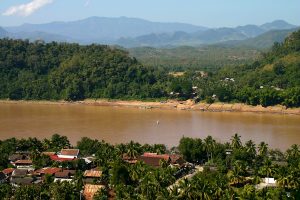 Tucked into a mountainous region in north central Laos at the confluence of the Mekong and the Nam Khan rivers, beautiful Luang Prabang stole my heart from the moment I set foot in it. Colorful wood-shuttered buildings, lush greenery, and a laid-back attitude make this tranquil Southeast Asian destination so inviting that it takes no time at all to slide into a state of complete relaxation. After spending a few days in the area, it was even easier to understand why UNESCO chose to make this former French colonial town a World Heritage site. Here, traditional Lao architecture meets European colonial style with surprising harmony and elegance. It's this blending of cultures, along with a sprinkling of gilded Buddhist temples known as wats, that call to people who want to reflect on history and tradition alongside buzzing cafes and global wanderers.
Explore Luang Prabang
The Sights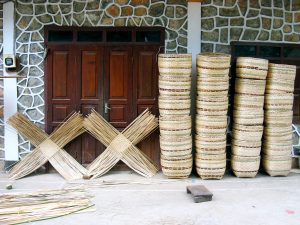 Luang Prabang hosts more visitors than any other destination in Laos, offering natural beauty, culture, and a rich mix of diverse and interesting food. I visited in late fall when the monsoon and oppressive heat had fizzled and the drier season was underway. The cool breezes and chilly evenings were a surprising—and welcome—respite from what I had come to expect of the region.
Admittedly, this town is not the easiest place to get to. It feels like it should be well off the beaten path, but there's no lack of visitors and things to do here. Outdoor guides offer elephant rides, mountain biking, and excursions to waterfalls. Trips to villages where artists weave baskets and make pottery are always worthwhile, and finishing the day with a sunset over the Mekong is something you'll never forget.
If you're a photographer, just pick a direction to walk and see what unfolds. Sleepy alleys and glimpses through swaying palms reveal small vignettes of daily life. You'll see farmers at work on the banks of the river. Graceful young women with parasols pass by on scooters. Monks in vibrant robes bring a splash of color to every scene.
The Shopping
The local Hmong are master silversmiths. You'll also find many other handmade treasures like live-edge tabletops cut from slabs of local wood, ebony bowls, and silk textiles dyed with barks and berries. There's a simple sophistication to the products, and half the fun of discovering Luang Prabang's arts and crafts is talking to their creators. A lively night market gives a great excuse to wander the street, though, when I was there, this wasn't the place to find the best quality items to take home.
The Food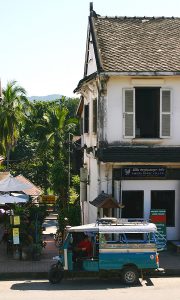 Coq au vin or noodle soup? The food scene is an interesting mix of many cultures with French and Lao best represented and often interestingly comingled. Walking along the street my first morning, I caught the scent of freshly made bread, an oddity in Asia. It turns out that delicious baguettes, pastries, and croissants are everyday fare here.
The snack I still dream about is also a Lao favorite—khaiphaen—known as Mekong River moss. Some descriptions I've read say it's a freshwater green algae chock full of vitamins and minerals. Whatever it is, it's cleaned, dried, and pressed with garlic and sesame seeds. Served alongside a cold Beerlao, it's an utterly addictive treat. I've tried to recreate our Mekong evenings with homemade kale chips and a microbrew on my deck. While this takes me back for a moment, there's just no substitute for enjoying this delicacy at the source.
Travel Tips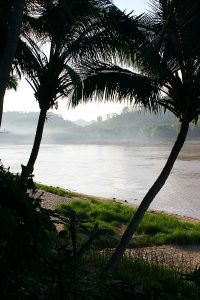 On the way to Luang Prabang, make a stop in Vientiane, the country's capital. I stayed for several days after reading an intriguing description in a guidebook. "It slowly reveals its charms" turned out to be an insightful way to sum up this city. From the dinner I ate on a backyard plastic table with a stray dog at my feet to the Madagascar vanilla-infused scallops I happened across the next night, Vientiane is well worth a look if you're in the area.
It's frowned upon to enter a wat in shorts, above-the-knee skirts, or with bare shoulders. I throw a sarong in my bag for covering up so I'm comfortable in the heat but respectful inside.
In Southeast Asia, traveler's diarrhea and other intestinal distress caused by contaminated food and water is not uncommon. Particularly when I'm eating street food, I'll look for soups or curries that are boiling. Choose a place that's busy because food turns over quickly. Avoid drinks with ice or mixed with water. I also pass on dairy products like yogurt and ice cream that could spoil easily in the heat. It's not a fool-proof strategy, so if it fails, you'll want to have a stash of Cipro in case it lingers.
Update your vaccinations before traveling to this part of the world. Visit the CDC site to find out what the risks are and be sure to schedule time with your doctor in advance. Some shots are recommended well before you board your flight.
If you want an adventure closer to home, why not try northern Tuscany this fall? The region's autumn foods, colorful landscapes, and slower pace will provide unforgettable memories long after you return home.