As we get older, it becomes more important to make time for a daily fitness routine. As you age, you lose muscle and bone mass and may develop problems in your muscles, joints and bones, such as back pain, osteoarthritis, or osteoporosis according to the American Academy of Orthopedic Surgeons. Staying physically active is a great way to slow the aging process—regular exercise slows the loss of muscle mass, strengthens bones, and reduces joint and muscle pain. Exercise also improves mobility and reduces the risk of falling and suffering a serious injury. With 1,440 minutes in each day, it shouldn't be that hard to find 30 minutes for exercise. But it can be. Luckily, with a few small adjustments creating a daily fitness routine is easier than you think.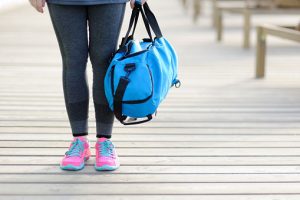 To find the time for fitness, you first need to evaluate how you spend your time. Life is busy, and there never seems to be enough hours in the day to accomplish everything on your list. However, if you take a good hard look at your activities throughout the day, you'll be surprised to learn how much of them are unproductive. We also need to recognize excuses, procrastination and laziness. It's necessary to account for these blocks of wasted time. Most of us have more time than we think – it's just a matter of setting realistic goals, recognizing priorities and managing your time to be most productive.
Small Changes Make a Big Difference
When life is busy, the key to becoming more active is to identify small changes that make a big difference. Take advantage of these opportunities that are easy to incorporate into a daily fitness routine:
Lay out your workout clothes and pack your gym bag before bed.
Put the alarm clock someplace where you have to get out of bed to shut it off.
Get up 30 min earlier 3x times a week to exercise.
Jump in the shower before your workout for 30-45 seconds to wake up.
Be social. Grab a friend with the same fitness goals
Join a gym close to home or work.
Household chores count! Yard work, shoveling, mopping. Make the most of them.
De-stress with a quick walk. You'll burn calories and decrease your appetite.
Two 15 min bouts of exercise are just as good as 30.
Get your (or your neighbors) dog into the act. Head out for extra long walks.
Exercise while watching TV – squats, jumping jacks, run in place.
Make errands count. Walk or ride your bike.
Take the stairs whenever you can.
Get off the bus or subway a few stops early and walk the rest of the way.
Keep a FitKit (www.FitKit.com) – Total Fitness in a Kit handy for workouts anytime, anywhere.
Fitting in Fitness with Family
It can be challenging to find time for exercise with the demands of a busy family. However, by prioritizing a healthy lifestyle, you will be better able to manage your busy life, teach lifelong fitness habits, and help the family get fit too. Make these easy changes to improve your family's fitness:
Take the dog for a walk or run, all together.
Plan active family vacations.
Turn off the TV and dance.
Bond with an after-dinner walk.
Get everybody up early and take a bike ride together.
Schedule picnics in the park and throw the Frisbee, football, or fly a kite.
Play hide and seek with the kids.
Start a neighborhood game of kickball
Make Fitness Work at the Office
Finding time for fitness with a demanding work schedule is easier than you think. Implement these changes to increase your exercise opportunities:
Schedule your workout like you would a meeting.
Take the stairs vs. the elevator.
Choose restaurants for lunch that are a longer walk away.
Decrease stress by taking a walk during breaks/lunch hour.
Start a lunchtime walking group with co-workers.
Start an employee fitness challenge.
Keep exercise clothes in your trunk or desk.
Utilize the corporate gym.
Stash exercise bands and tubes in your drawer.
Put calls on speaker phone, and walk around the office while listening to the call.
Learn to delegate and make exercise a priority.
When the Weather Outside is Frightful
When you're stuck indoors, exercise keeps the blues away. Follow these tips to stay active:
Do lunges while on the phone.
Try for 3 sets of 50 jumping jacks during commercials.
Walk the stairs of your building.
Invest in a few good cardio or strength DVDs.
Clean – you'll burn tons of calories!
By evaluating your time and prioritizing fitness, you will find the time to improve your health and outlook. Creating a daily fitness routine is important and small changes will lead to big success.