Everyone needs to be organized when they begin their travel experience. There is too much chaos in the travel itself (airport delays, security checks, etc.). The only way to bring some sanity and calmness to the time before arriving at your destination is to have all your travel essentials in your suitcase (which is under the weight limit and has room to spare). Unfortunately, this requires planning. These travel accessories for women will help you organize your travel needs and make the first part of your trip hassle-free.
Organizational Travel Tools
1. Packing Cubes
I love my packing cubes. These are a must for your stuffable items (socks, accessories, scarves and underwear). I am always amazed by how many pairs of underwear I can shove into one small cube that fits neatly in my suitcase. You can use them for other items, too (shirts, pants, etc.) although other alternatives may save more space. Unpacking is also a breeze. Just unzip the bag and put the items in the drawer.
Here are some of my favorites (all of these are very light):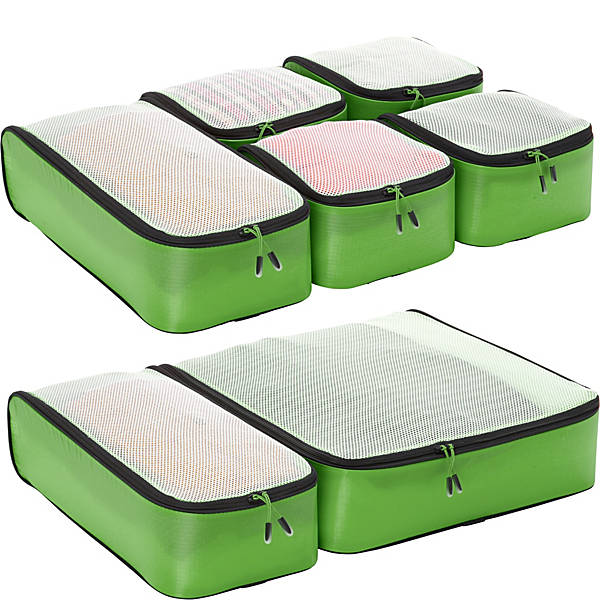 eBags, Hyper-Lite Packing Cubes 7pc Set, $65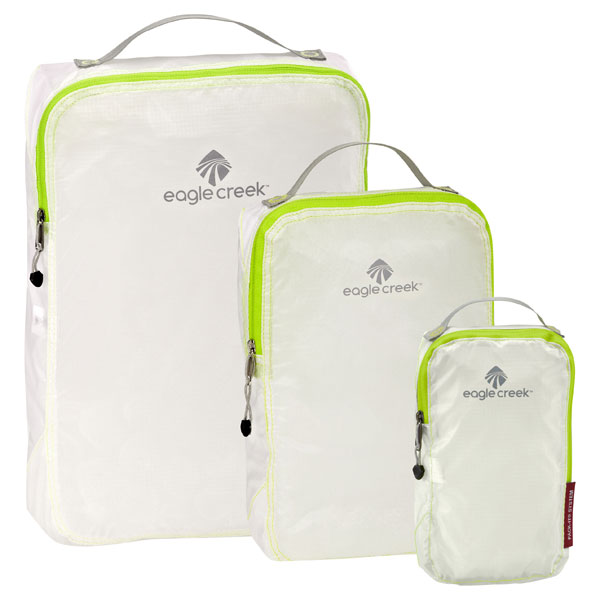 Eagle Creek Translucent Specter Pack-It Cubes, $40
If you are packing shirts, consider getting a set that also includes an envelope. It is amazing how many shirts you can fit into one envelope.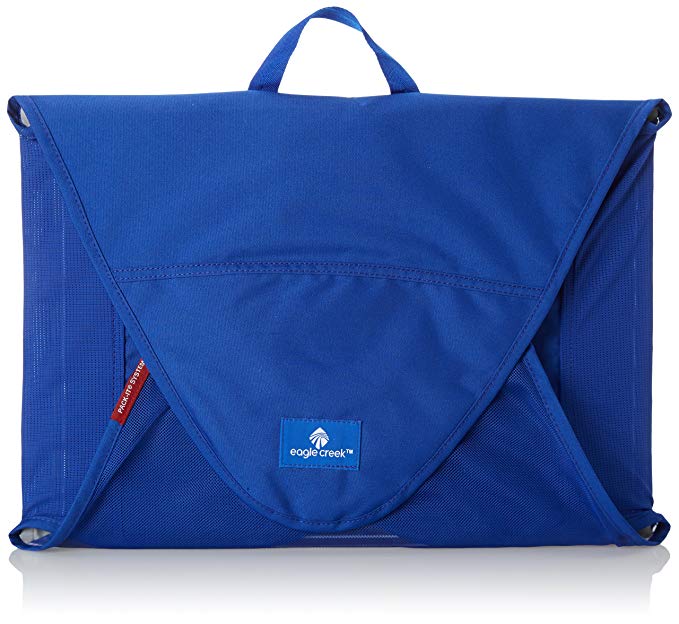 Eagle Creek Travel Gear Luggage Pack-it Garment Folder, $29
>READ: BEFORE YOU FLY, BUY THE BEST BAG FOR YOUR TRIP
2. Space Savers
If you are concerned about packing space or are taking lots of sweaters or other heavy or bulky items, you should consider using compression bags. These come in different sizes depending on how many items you have and their bulkiness. These aren't the best for avoiding wrinkles, but they sure save space in your suitcase. Also, I have found that it is difficult to remove all the air from the bags (and get the same effect) after they have been used more than once. So, you may need to replace them frequently.
Some I have used in my travels: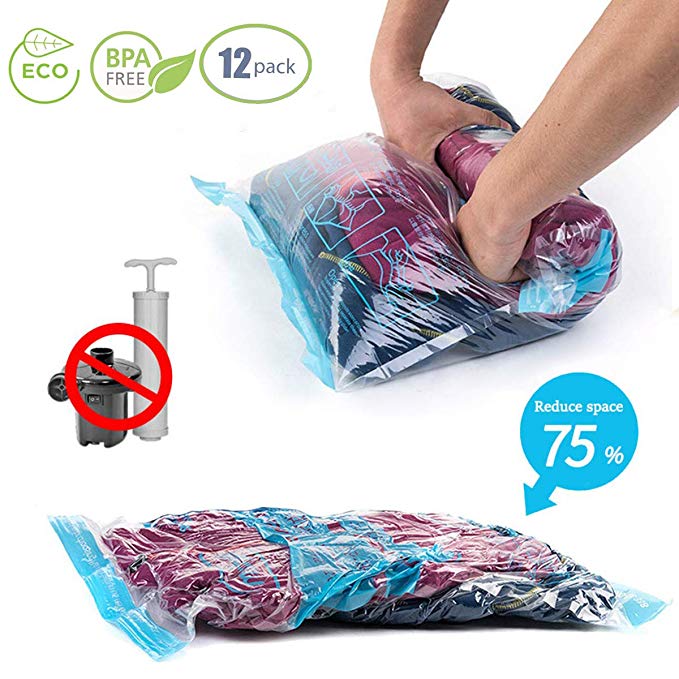 Compression Travel Storage Bags 12 Pack, $17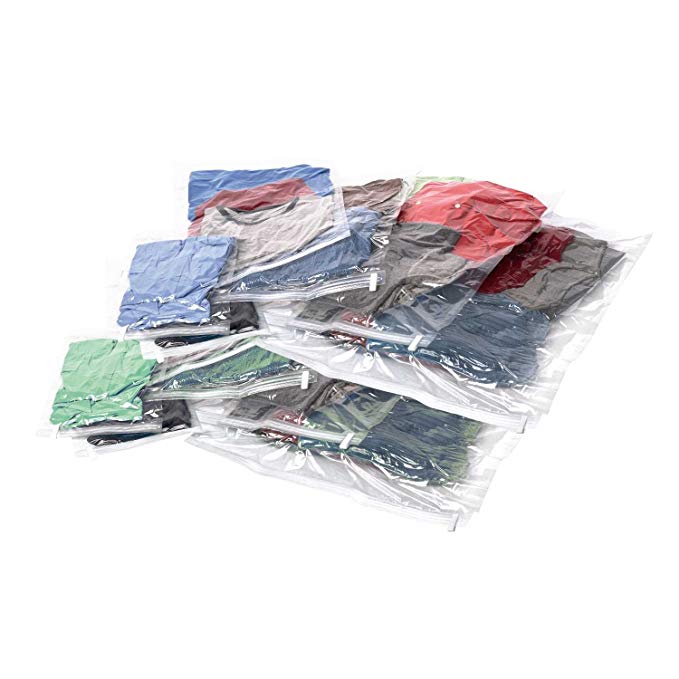 Samsonite Compression Bags 12-Piece Kit, $20
3. Jewelry Case
Finding a great jewelry case that keeps your necklaces untangled and your earrings organized is difficult. I tend to use two different containers for each. For my earrings, I like this cube because it allows me to make my earring choice without having to take all of them out of the case. I often just keep my earrings in the cube even following a trip. I just place the container in my jewelry drawer for storing some of my earrings. Plus, it fits easily in a carry on and in the safe in your hotel room.
Stackers Taupe Folding Travel Jewelry Storage Tray, $8
And for your necklaces, I think this is the best choice. It fits in your carry on and has individual compartments for your necklaces.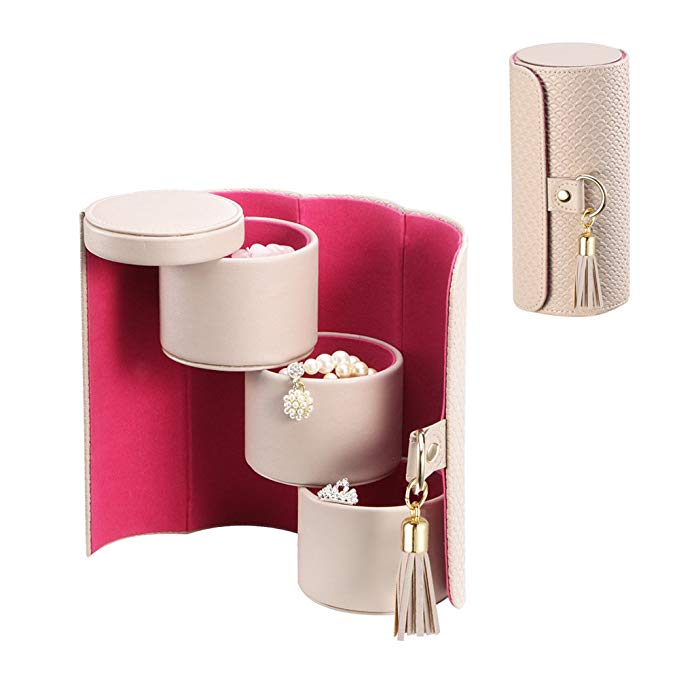 Vlando Viaggio Small Jewelry Case, $14
4. Make-Up Case
I think a make-up case must be large enough for all your makeup and brushes, but also be structured so that it is easy to find what you need, when you need it. Plus, I have never understood the need to have a case that hangs, since I generally am sitting down when applying my makeup. The hanging gear actually gets in my way. I really like this one (it has a separate space for your brushes and will easily fit into your suitcase):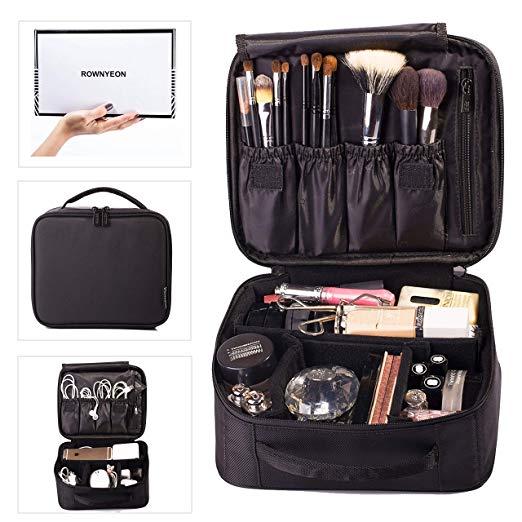 Rownyeon Travel Makeup Bag, $18
And if you want to be fashionable, look at this one. It costs a lot more, but it has a separate place for brushes and several pouches that nest into the larger case. Plus, you will feel joy when you use it.
Tory Burch, Tilda Cosmetic Bag Set, $258
5. Tech Organizer
Everyone needs an easy and compact way to organize their chargers, adapters, air pods and other tech accessories in their travel. Plus, it needs to be small enough to fit in your purse or carry-on, so they are available when you need them.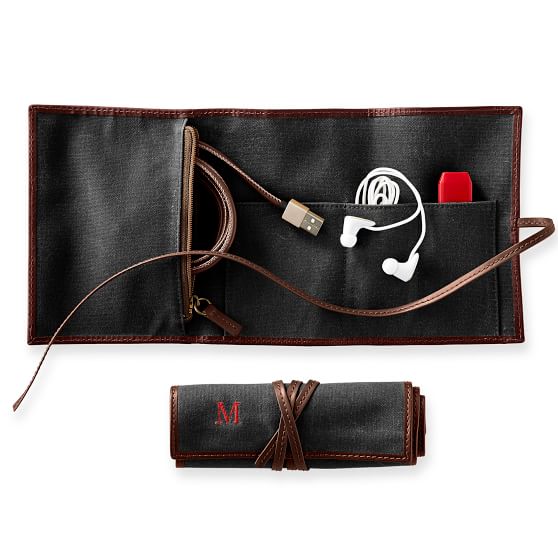 And if you have lots of tech needs, this one (although not as compact) is a good alternative: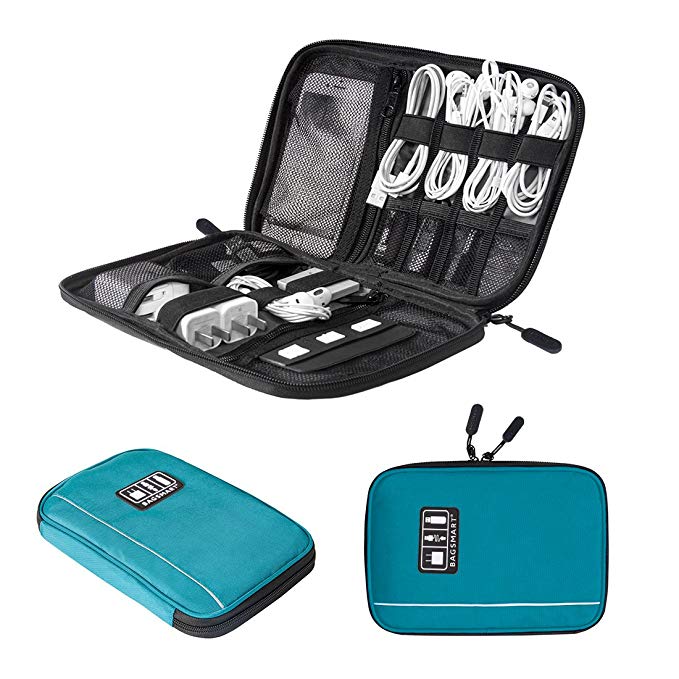 Bagsmart, Electronic Organizer, $18
>SEE: TRAVEL MUST-HAVES ON THE PRIME WOMEN MARKETPLACE
Optional but Recommended Travel Accessories for Women:
6. Travel Steamer
I never think that I am going to need a steamer to get the wrinkles out of my clothes, but I have to say that if you have room in your suitcase, this is something that will come in handy. It's amazing how it gets the wrinkles out and makes every outfit look neat and pressed: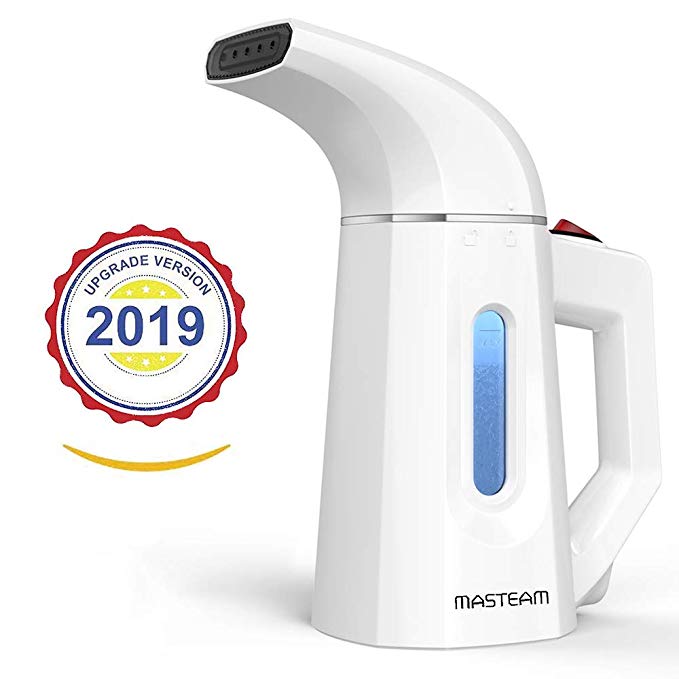 Masteam Portable Travel Garment Steamer, $25
7. Travel Hairdryer
How often have you gotten to your room, washed your hair and found out that the hairdryer the hotel provides is noisy and doesn't really dry your hair? It is worth investing in a great travel hair dryer. This one's quiet, compact, foldable, very powerful and lightweight. Plus, it has dual voltage, so you can use it in foreign locations.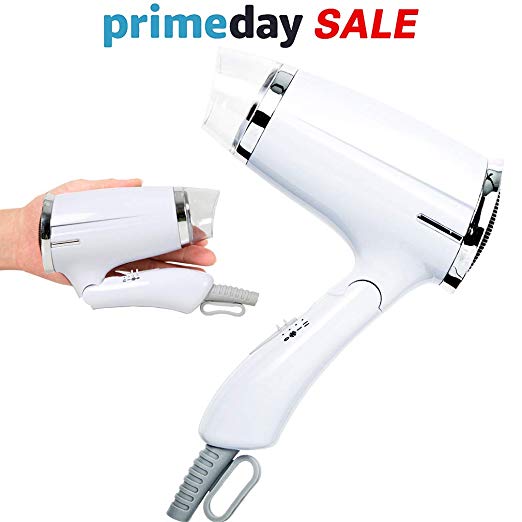 Compact Travel Blow Dryer, $25
8. Travel Bottles
Don't forget that your liquids will have to be stored separately from your other makeup when you are not checking. Consider using this clear plastic bag and all of bottles and containers to carry your liquids. It is TSA approved, includes an assortment of containers and bottles that can be easily be filled without using a funnel, and even includes labels for the bottles: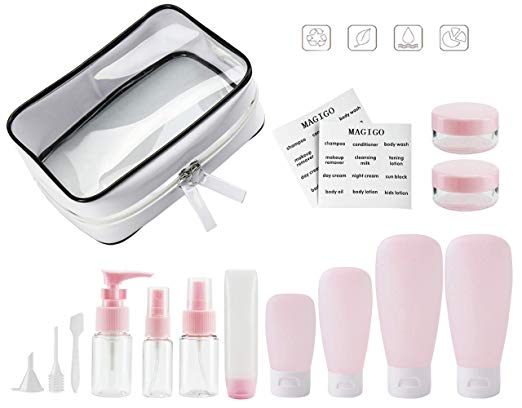 Magigo Leak Proof Travel Bottle Set-16 Pack, $15
9. The Perfect Wrap
I never travel on long trips without my White and Warren cashmere travel wrap. It fits easily in my carry-on bag and is perfect for snuggling on the plane. It can be used as a scarf, pillow or blanket. Plus, it comes in multiple colors. There are even videos on line demonstrating how it can be tied and worn when you get to your destination.
Mer-Sea, Classic Pocket Travel Wrap, $60 (was $120)
10. Compression Socks
I know. They are not attractive. But they do serve a purpose when traveling. Remember: don't get them so tight that they hurt or make you itch. I like the medium strength ones that seem to be lighter and less constrictive (and perhaps less effective). My favorite even comes in a shorter sock version for summer travel: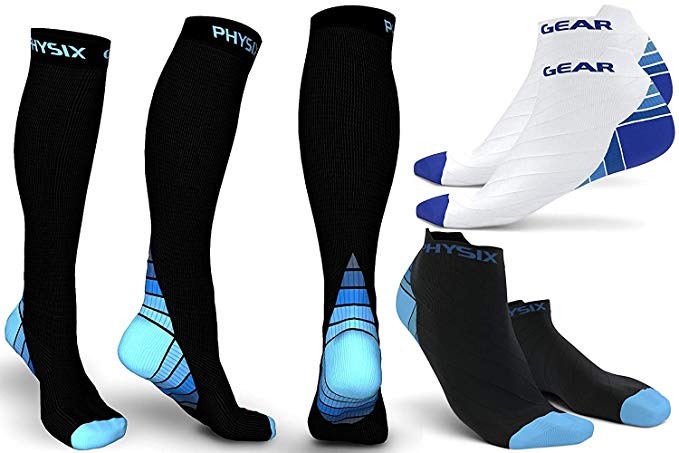 Physix Gear Compression Socks, $30
There may be a number of other items that you may want to include as you organize for your trip: a travel mirror, a travel pillow or even perhaps a travel wallet. But, I find these to be the most useful travel accessories for women. I know that they will alleviate some of the stress you may feel as you embark on your vacation.
>READ: CLEVER CAPSULE WARDROBE: STYLISH TRAVEL CLOTHES FOR WOMEN OVER 50
>READ: BEFORE YOU FLY, BUY THE BEST BAG FOR YOUR TRIP