The end of February found me in Portugal where I have been finishing a new build project on the highly desirable Quinta do Lago Estate in The Algarve. I have been working on this particular house for 2 years and now that it is complete, my thoughts are moving to my new projects and the latest Interior Design collections that will be launched at Spring Week in Chelsea, London. The week itself is a busy, social affair, but it gives the team a chance to preview the latest fabric collections and discover the must haves for the season and Client's just love seeing things that are hot off the press! There is usually a theme running through the collections and the Interiors Industry is often influenced by what we are seeing on the Catwalks.
The big trend for this year seems to be on the one hand bold and blousy floral and on the other, subtle colors, in pastel, chalky tones.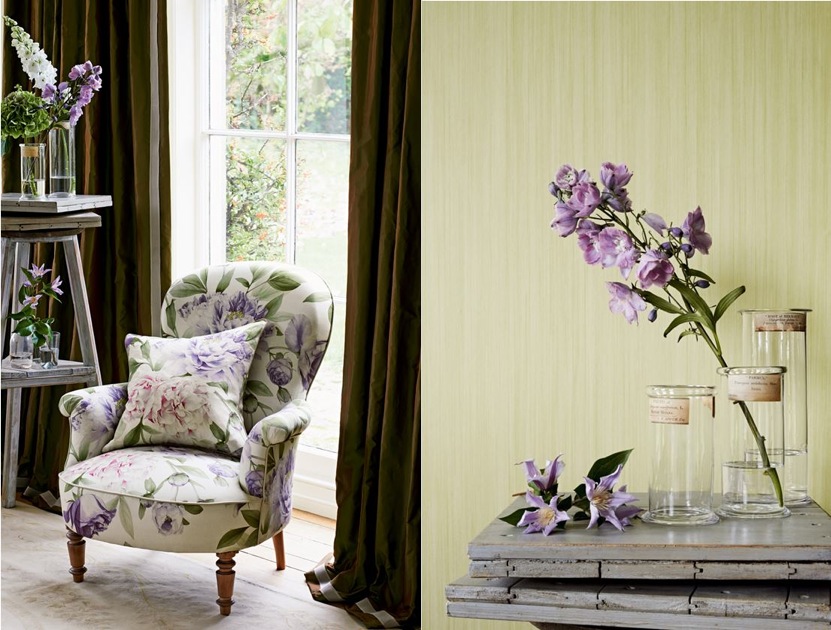 Pastel colors are not usually a favorite of mine, they seem to keep going in and out fashion and I like to think that my Interior Designs schemes will be timeless rather than just a fashion fad. However, there is always a place for a little of what you fancy and I can't help but be seduced by these quirky wallpapers, perfect for a cloakroom or a space that you feel more relaxed about.
Pastel colors are easy to use, but your palette will be small and it's a good idea to try and keep a uniform depth of color using varying shades of one color rather than a Sweet Shop approach which can quickly tire.
I like my pastel colors to be of the smokier shades, they have a more classic look and by using grey as a background color for the walls, floors or upholstery I can then add layers with accessories and sort furnishings.
I want to add some pastel colors to my 100% Cashmere Collection, www.carolynparkerlifestyle.com, I think it would make a great Capsule Collection and would work fabulously with some of the existing color ways.
I would love to see trimmings making a big come-back, but I don't think it will be this year… We are still using plain curtain treatments and roman blinds with not much call for trimmings unless the schemes are very ornate and elaborate. But I think there is always a place for trimmings whether it's a simple leather braid or a neutral bobble trim for that little bespoke touch.
It's good to see new young designers coming up with new products like the lovely Juliet Travers with her new wallpapers that work so well with Farrow and Ball colors.