Great Balls of Fire!
Hip hotelier Andre Balazs has finally graced the British Isles and my word have we been looking forward to it. Balazs already has a collection of uber cool and 'place to be seen' hotels in New York, LA and Miami (The Standard Group, The Mercer, The Raleigh and Chateau Marmont) and a few months ago launched his first UK hotel – The Chiltern Firehouse in Marylebone, London.
Having managed to bag a table (perhaps it was the calm before the storm) off we (me, the beard and a couple of pals) went on Wednesday night. The minute I walked through the candle lit terrace I knew it was going to be good, apart from the extraordinarily hunky man on the door, I felt like I had arrived at a party and had only just made the invite list. Sadly there was no room for a drink at the bar (which incidentally you can't rock up to without a reservation) – it was full with the likes of Kirsten Dunst, Princess Beatrice and Rita Ora, but hey ho, I would have been happy to have a drink in the loo this place was so buzzy.
The Firehouse is a large vibrant dining room with an array of different seating areas – all positioned around a hard working open plan kitchen headed up by Portuguese-born chef Nuno Mendez. Having trained at the California Culinary Academy, Mendez went on to work under some of the world's best chefs – Jean-Georges Vongerichten, Wolfgang Puck and Ferran Adria at the world acclaimed el Bulli in Spain (which has sadly now closed). He finally opened his own restaurant, Viajante in 2010 that won him a Michelin star. How Balazs managed to poach Mendez from his own establishment I am not sure but how interesting and exciting!
A quick one before dinner was my cocktail of choice (vermouth, aperol, champagne, grapefruit with a twist of lemon rind), yep I could quite happily have drunk several. To accompany our drinks we had crab doughnuts with coral dusting – small enough to pop in whole; they were so good it almost makes you want to stuff the lot in at once and portion of fried chicken with smoky bacon ranchero dressing which were delicious.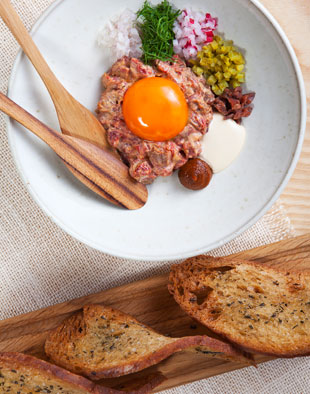 To start with I had caeser salad with crispy chicken skin – seriously the best I have ever eaten, the others had an insanely tasty squab pigeon, a DIY steak tartar with the egg yolk sat perfectly on top and a side of chilli. For mains we ordered slow roasted beef short rib with hazelnut purée and bone marrow which was succulent and tender, steak – which was bloody and delicious, pan fried roast chicken with kale and bread pudding – simple but really very good and monk fish that came a little on the cool side.
During the course of our meal we naughtily popped to the 'smoking area' for a quick cigarette – to get there you have go through a secret door at the back of the men's and ladies loos – it's like something out of Narnia – once in, you might not want to come out. At one point I saw Balazs himself and wanted to throw myself at him in adoration, however I refrained on realising this would have not impressed the Beard or Stella McCartney who he was in mid conversation with.
I loved every minute of The Firehouse, it has a feel to it like no other place in London, it's fun, fabulous and unquestionably my favourite restaurant to eat right now – I just hope it doesn't become impossible to get a reservation…although I have a feeling it's already too late.
Chiltern Firehouse. One Chiltern Street; Marylebone; London W1U 7PA; 020 7073 7676
Open Mon-Fri from 6pm and weekends from 11am.
Dinner for 4 including wine was £480.