I just love this Butternut Squash Bisque recipe… and whenever fall arrives, it is time for this wonderfully smooth and rich soup. If you want to skip making the two toppings, you can easily just top the soup with a bit of cheese (such as chevre or grated cheddar or gouda) or a few crumbles of bacon. You can even play with flavors by adding some pomegranate seeds, fresh herbs, or any combination thereof!
Everyone loves it, and you can serve it as a first course or enjoy a big bowl for supper.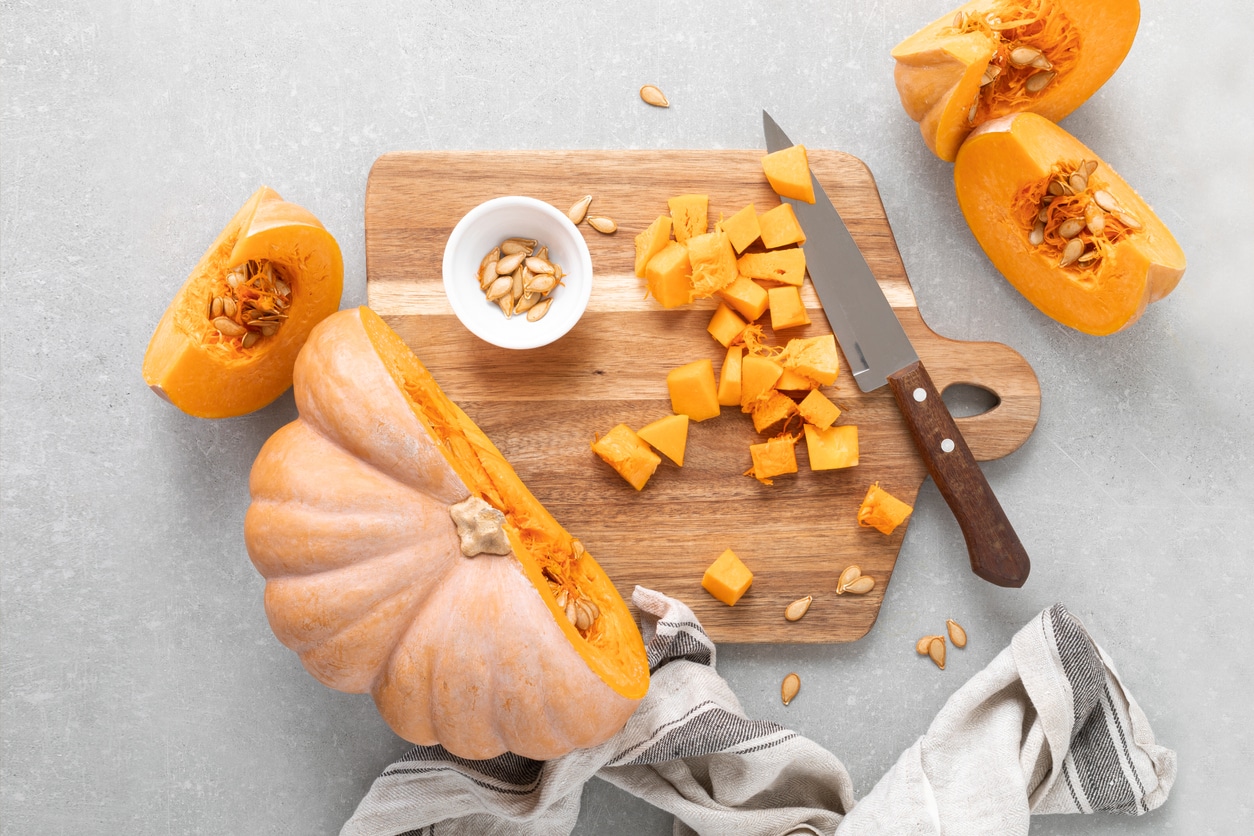 Butternut Squash Bisque with Gorgonzola Cream and Chipotle Mascarpone
Ingredients:
1 2-pound butternut squash
5 cups chicken broth, plus 1 cup, if needed
1 cup apple juice
3 tablespoons butter
1 medium onion, sliced
4 shallots, sliced
½ teaspoon fresh rosemary, minced
Salt and freshly ground black pepper to taste
4 strips pepper bacon, for garnish
Gorgonzola Crème
¾ cup crumbled Gorgonzola (4 ounces)
½ cup heavy cream
Chipotle Mascarpone
3 chipotle chiles in adobo
1 teaspoon adobo sauce
1 cup (8 ounces) Mascarpone, cold
Directions:
Peel the squash, and scoop out and discard the seeds. Cut into 2-inch cubes and place in a large saucepan. Pour the chicken broth and apple juice over the squash and simmer over medium-low until soft when pierced with a fork (about 30 minutes).
In a medium skillet, melt butter and then sauté the onion, shallots, and rosemary over medium-low heat until soft and just beginning to brown. Add them to the squash and continue simmering for 15 minutes.
Using an immersion blender, puree the squash in the saucepan until smooth. Alternatively, pour the squash into a blender and puree until completely smooth. Return the soup to the saucepan, season with salt and pepper, and simmer for 15 minutes. The soup should be thick, but add another cup of chicken broth if it is too thick.
In the meantime, cook the bacon in a small skillet over low heat until crisp. Drain on paper towels. When cool enough to handle, crumble the bacon into a small serving dish.
For the Gorgonzola Crème, combine the Gorgonzola and the cream in the work bowl of a food processor fitted with a steel blade. Process until smooth. Place in a small serving dish.
For the Chipotle Mascarpone, puree the chipotle chiles and the adobo sauce in a food processor fitted with a steel blade. Add the cold Mascarpone and continue processing, just enough to incorporate all the ingredients. Place in a small serving dish.
To serve, ladle the squash soup into soup bowls. Pass the bacon, the Gorgonzola Cream, and the Chipotle Mascarpone for guests to dollop on top. They can add one or all three, depending on their preference.
Serves 8
Copyright © 2007 by Paula Lambert, Cheese, Glorious Cheese.
Read Next:
Spicy Roasted Cauliflower Recipe
Deliciously Simple Marinated Flank Steak Recipe
[optin-monster slug="tbhhurcqgsuq6f7q3mfp"]