…And I'm not referring to the turkey neck on your Thanksgiving bird. I'm talking about that little wattle and looseness we all hate about our necks. Women (and men) over 50 are always asking, "What can we do to get rid of the wrinkles and how do we fix our necks without going under the knife?"

As always, the number one piece of advice is to wear a moisturizer with SPF every morning, like Neutrogena Rapid Wrinkle Repair with SPF 30 and retinol. In the evening use a moisturizer like Olay Total Effects Night Firming Cream or L'Oreal Paris Perfect Hydra-Nutrition, both about $20.00 at the drugstore. Spending $400.00 on a jar of neck firming cream is not a good investment when you can spend about that same amount for a neurotoxin such as Botox©, Dysport©, and Xeomen©. Granted, the neurotoxins only last about three months, but the expensive department store creams do not last much longer. You will definitely see better tightening of the jawline with the neurotoxin than a cream, provided an injector familiar with injecting the neck is doing the treatment.
Truth be told, there is not a 'home run' anti-aging treatment for the neck like there is for treating the face. Even my patients who have a surgical neck lift are not completely happy. I think that it just speaks to the fact that treatments do not work as well on the neck as they do on the face; so, expectations need to be lowered. Having said that, there are some treatments that can improve the turkey neck.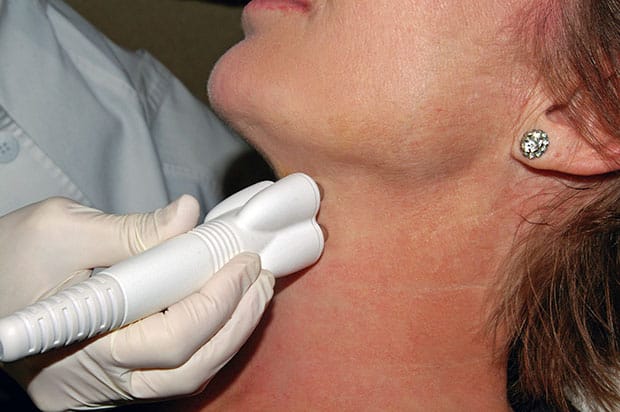 The treatment I like best is Venus Freeze© which is a procedure that is FDA-approved for loose skin on the lower jawline and neck. It uses radiofrequency and magnetic pulses to tighten the skin. Six treatments performed over six to twelve weeks (one treatment every week or every other week) is recommended and, afterwards, getting a treatment every three to four months helps to maintain the improvement. The treatments cost approximately $200.00 to $250.00 per treatment, take about 20 minutes, are painless, with minimal to no side effects or risks. But, does it work? Again, most patients (~70%) will see improvement, and if you are over 60, it may take twice as many treatments. If you have a double chin, it probably will not work.  In patients with a double chin, combing the procedure with liposuction or Kybella gives the best results.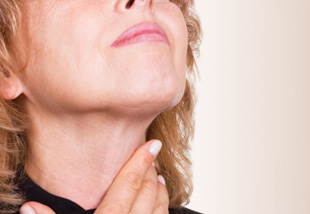 The other FDA approved treatments on the market for tightening the neck are Thermage©, which uses radiofrequency and Ultherapy©, which uses ultrasound. Both treatments can give results with just one treatment. Typically, about 70% of patients will see results, which means about 30% will not. Thermage©, when first introduced had a risk of fat atrophy (giving indentations). This risk has been reduced with newer protocols. Ultherapy© is painful and patients need to take pain and sedative medications prior to the procedure and there is a risk of swelling, redness and bruising. Both Thermage© and Ultherapy© cost approximately $2,000.00.
To quote Valerie Monroe, Beauty Director, for Oprah magazine, "If your turkey neck is in full swing, neither lasers nor creams will make an appreciable difference. But, before you send your neck to the tailor, think long and hard about what people see when they look at you. Your magnificent eyes and delicious smile may render your neck way less noticeable than you think."
Prime's article on how to wear a scarf looks pretty good, too. And if you haven't already read it, you should check out Nora Ephron's hilarious book, I Feel Bad About My Neck, and Other Thoughts on Being a Woman.
Improve Neck Wrinkles and Turkey Neck
Why Choose Venus Freeze for Neck Tightening?