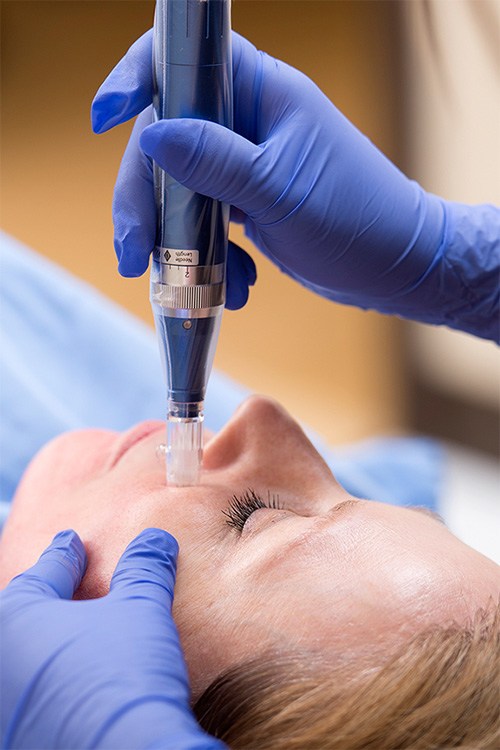 Everyone wants to have younger looking skin, and there are a variety of treatments out there promising to deliver. We have found that the SkinPen produces great results for our clients with little downtime.
What is a SkinPen Procedure?
The SkinPen procedure is a state-of-the-art Micro-needling treatment designed to stimulate your skin's own natural ability to produce new collagen. With Micro-needling, you can reverse years of sun damage by improving fine lines, wrinkles, large pores, uneven skin texture, skin tone, hyper-pigmentation and light scarring.
How does the SkinPen treatment work? Here's how it works: First, a topical numbing cream is applied to make the procedure more comfortable. Then, with a sterile and disposable needle cartridge, the SkinPen procedure creates thousands of micro-channels in the skin to trigger the body's natural wound healing process. This results in skin remodeling, including the formation of collagen and elastin, the two proteins mainly responsible for the structure of the skin. The outcome is beautiful, youthful-looking skin.
What to expect with this procedure: A 30 minute procedure, ideal for a busy lifestyle with little to no downtime or special after care required. There are mild post procedure effects similar to a mild to moderate sunburn. This treatment is safe for ALL skin types and for any part of the body.

* SkinPen Before and Afters provided by Bellus Medical
The benefits of microneedling are outlined on the SkinPen website: 
SkinPen® microneedling is minimally invasive and a quick procedure, performed in-office
Little recovery downtime makes SkinPen® ideal for a busy lifestyle, and a great place to start for aesthetic procedures.
Support of healthy skin. Skinfuse® post-procedure protocol by Bellus Medical, ensures you receive all the right vitamins and minerals to your skin, with none of the wrong ingredients.
Results are generated from your own skin's natural collagen remodeling and elastin.
SkinPen® may be used on all skin types.
Ideal for assisting in reducing the signs of aging.
A versatile, precision design for use on most all parts of the body including face, neck, and décolletage.
Want to find out about other available treatments for younger looking skin? Check out the Skinny on Fat Grafting. 
Want to know what SkinPen can do for you? Speak with an aesthetician today.