As we get older, our skin starts to lose elasticity, causing areas of our body to begin to droop or sag. Life events, including pregnancy, weight gain or loss, hormonal changes, or just the basic aging process, start to take a toll on our bodies. Over time, men and women alike start to consider the various procedures that are available to make us look and feel our best. One common procedure that women consider is a breast lift.
There are a wide variety of reasons to consider getting a breast lift. The physical pain and limitations brought on by large breasts, especially as gravity begins to take a toll, can be overwhelming and hard to live with. In some cases, women simply want more mobility and find that their large breasts prevent them from being as physically active as they would like, and decreasing their breast size can open up a wealth of options for them.
Other women simply want their breasts to look more like they did in the past: a bit perkier and less saggy. Fortunately, there is more than one option when it comes to surgical intervention for sagging breasts. One option you may or may not have heard sounds a bit whimsical: the lollipop breast lift.
What is a lollipop breast lift?
A breast lift, or a Mastopexy, is a cosmetic surgery to lift the breasts and typically includes changing the position of the nipple or areola. The type of incision used on each patient will depend on a variety of factors, including breast size, shape, age, and the amount of lift desired.
According to Dr. Sandra Margoles, "All breast lifts or reductions have an incision around the areola and then a vertical, which would be the lollipop, and then a plus/minus with the anchor under the breast mammary incision."
There are three different incision patterns used in breast lift surgery; each focuses on minimal scaring and optimal lift. They include:
Around the areola
Verticle scar: around the areola and down the breast to the breast crease (the lollipop breast lift)
Inferior pedicle: around the areola, vertically down to the breast crease, and horizontally along the breast crease (the anchor breast lift)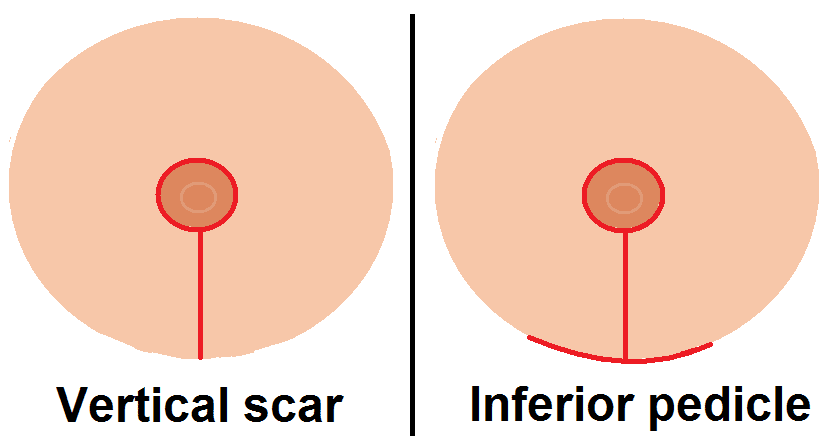 Best Candidates for the Lollipop Lift
While the type of incision used will depend on the patient, certain factors can play a role in determining the appropriate type. When asked about the ideal candidate for a lollipop lift, Dr. Margoles stated, "You can do a lollipop lift at any age, but younger people are better because they hold the shape a little better, and you don't have to take as much skin." She added, "The primary reason is to lift or get perkier or attain a light to moderate reduction."
The anchor-style lift, or the inclusion of the plus/minus incision horizontally under the breast crease, is more common in women with larger breasts. That's because more skin and tissue need to be dealt with, and the lollipop style typically isn't adequate to get the job done.
Associated Risks
When it comes to risks associated with the procedure, there really aren't any others than you would typically expect with a surgical procedure. According to Dr. Margoles, "The biggest risk is that you don't get the shape you want. Sometimes when you try to squeeze a lift into just a vertical incision, you'll get more tension and get a thicker scar. But it's the same risk as doing any breast procedure as far as the risk of sensation to the nipple." She continued, "The shape may be a little odd, and you may need a revision, but this is a risk with any breast procedure."
While the lollipop lift might be a great option, it's important to note that the traditional lift has its own benefits. According to Dr. Margoles, "The anchor incision gives you more of a chance to achieve symmetry, it looks good right away, and you can take out large or small volumes. And you can shape it nicer than the vertical only." Therefore, if you've got larger breasts or worry that you'll have a lot of excess skin to remove (because of weight loss), the traditional will probably work better.
How long does it take to recover?
According to Dr. Margoles, "It will take a couple of weeks for the majority of the swelling to go down, but all breastwork doesn't really settle in for about three months. However, after the first two weeks, as most of the swelling goes down, you'll get an idea of the shape and the size, but it really changes after three months." When compared to the anchor-style incisions, Dr. Margoles said, "It takes longer for everything to shape up than you see with a traditional full incision, but you'll get a nice result in the end."
If you're excited to get back to an active lifestyle, you should expect at least six weeks before you can start working out again.
Conclusion
If you're considering getting a breast lift, your doctor will determine the appropriate incision type for your needs. While the lollipop lift has fewer incisions than the traditional lift, it will take longer to see the full results. As Dr. Margoles states, "The primary reason to get is to lift or get perkier or get a light to moderate reduction."
Read Next:
Differences Between a Breast Lift and a Breast Reduction
The Rare But Scary Risks of Fillers