If you've been looking for the perfect eye cream to fix your eye wrinkles, save your time and money. There is no cream that will rid you of eye wrinkles. Is there anything that really works? The good news is yes! The best treatment for getting get rid of wrinkles around the eyes is Dysport® or the better known brand Botox®.
Dysport®, Botox®and Xeomin® are neuromodulators, and they all work the same. Why suggest Dysport® over Botox®? In my office, Dysport® is a little less expensive. Since the treatments for eye wrinkles have to be repeated 2-4 times a year, it makes sense to go with the least expensive. Having said that, if the price is the same between neuromodulators, then it does not matter which one you choose.
It DOES matter WHO does the treatment! Look for an experienced injector, such as a Board Certified Dermatologist, who specializes in using neuromodulators to diminish wrinkles. Your injector is more important than the product being injected. This is not a treatment that should be purchased through Groupon.
The treatment for eye wrinkles is really pretty quick and easy for the patient. It is best done in the Doctor's office. Forget the Botox® Party where you are getting a treatment in someone's kitchen or living room. That will not result in the best outcome. Ideally, your treatment should be performed in an automated surgical chair with excellent lighting overhead. The treatment consists of tiny injections around the eyes. Yes, needles are used and the injections may smart a little, but it is over fairly quickly and the small amount of pain is worth the great results that you can get with this treatment.
After treatment, there is no special aftercare and no downtime. You can go back to the office or home and resume your normal activities. In fact, you can reapply your makeup right after treatment and resume your skin care routine. Immediately after treatment, you may notice some redness and tiny marks where the injections were placed, but those usually go away within an hour.
Occasionally, a bruise may form, but I have found with very careful placement this can usually be avoided. Concealer may be used to cover bruising. However, it is wise to schedule your treatment during a time that if you do bruise, it won't be the end of the world. In other words, don't schedule the week before your daughter's wedding. Schedule about 4-6 weeks before the big occasion, not only to avoid having to cover up a bruise, but also to maximize your results for the occasion.
About 1 week after your treatment, you will notice the wrinkles around your eyes diminish significantly. The maximum effect is usually at 2 weeks. The improvement will last 3 months at a minimum and often longer, depending on the severity of the wrinkles to begin with. Patients who have treatment for eye wrinkles every 3 or 4 months for the first year or two may find that they need fewer treatments as time goes on. Twice a year is often good enough to maintain improvement.
What are the risks? This has proven to be a very safe treatment for eye wrinkles. We already mentioned bruising. There have been very rare reports of double vision that goes away when the treatment wears off. With any cosmetic procedure, there is a risk that it does not give as good of a result as the patient expected.
One of the more common side effects is that when the patient smiles the cheek may bunch up, but the skin around the eyes stays flat and that can look a little unnatural. I find that proper technique and placement can often overcome that unnatural look. The goal is to get softening of the lines without looking unnatural. The treatment can also prevent lines from getting deeper and new ones from forming.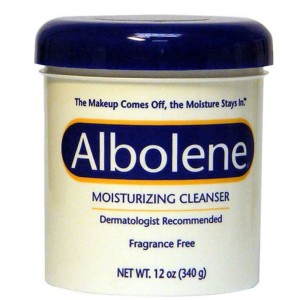 Unfortunately, there is no eye cream that works as well as the neuromodulators.  Protect your eyes from the sun with sunscreen, sunglasses and hats. Use a gentle eye makeup remover. An excellent one that is also very inexpensive is Albolene. You can purchase it here.
The procedure that gives the best results for heavy, droopy upper eyelids is blepharoplasty. This is a surgical procedure that has been discussed in a previous article. Because it involves removal of upper eyelid skin and stitches, there is more downtime and aftercare involved.
For the quickest improvement of lines around the eyes, nothing beats the neuromodulators.
Read Next:
Blepharoplasty: The Solution to Droopy Eyelids?